SERIES-EINSTEIN (WITH PHOTO) – TELAM Agency

"Einstein", a German police series centered on an unrecognized fictional great-great-grandson of the famous physicist of the title, who lends his enviable genius and rebellion to the investigation of complex crimes in exchange for his freedom, can be seen on the AXN cable signal from this coming Monday, May 22 at 10 p.m.
With some touches of dramatic comedy, the strip based on the 2015 film of the same name -which also serves as a kind of pilot episode- and scripted by Martin Ritzenhoff and Matthias Dinter, has the actor and singer Thomas Beck in the role of Félix Winterberg, a brilliant professor of Theoretical Physics at the prestigious Ruhr University and unknown descendant of Albert Einstein, one of the most recognized and fundamental figures of modern science.
However, a difficult health prognosis stands in the way of his happy academic and professional career, when he discovers that he has a life expectancy of about seven years as a result of Huntington's disease, a serious hereditary and degenerative neurological pathology.
To deal with his situation, Félix decides to experiment with an unauthorized amphetamine that brings him to the brink of jail, and he will only have one option to escape from the bars: to associate as an independent collaborator with the commissioners Stefan Tremmel (Rolf Kanies) and Elena Lange (Annika Ernst) to put her deductive skills at the service of solving the most intricate police cases.
As intelligent as it is stubborn and indomitable, the alliance with the detective duo proves to be solid and effective, although the appearance of a mind like the protagonist's will also cause jealousy and dangerous situations that leave them on the verge of vulnerability.
Throughout its ten episodes -which premiered on German TV in 2017 and were continued for another two seasons in 2018 and 2019-, the trio will juggle to understand and count on each other to elucidate a criminal network with touches of intrigue, comedy, mystery and even action.
Haley Louise Jones, Angela Roy, Reiner Schöne, Yung Ngo, Paul Bohse and Christian Hockenbrink, among others, complete the cast of this series that also had adaptations in the Czech Republic and Slovakia, with plans to also bring it to the US market under the wing from the CBS network.
Source: Ambito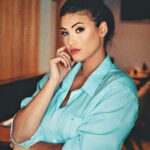 I am an author and journalist who has worked in the entertainment industry for over a decade. I currently work as a news editor at a major news website, and my focus is on covering the latest trends in entertainment. I also write occasional pieces for other outlets, and have authored two books about the entertainment industry.