In 1991 the Rock and Roll Hall on Fame inducted Ike & Tina Tuner. When the ceremony was held to honor them along with other artists, Ike, her husband, could not go because he was in prison, while Tina was successful as a soloist on a European tour and explained that she was not "emotionally prepared" to attend. Moments like this were the quintessence of the tumultuous life of Tina Turner, who could perfectly be considered the best singer in the history of rock for a single song, "River Deep, Mountain High" Phil Spector's blockbuster where the "Mozart of teen music" ironically only paid Ike to do nothing.
But Tina Turner, who died this Wednesday in Switzerland at the age of 83, may be remembered as the queen of rock, the first black singer who could jump from the darkest soul to the rawest rock and roll, returning to gospel and rhythm & blues. all in the course of the same song. And this is perfectly recorded in records from the late '60s and early '70s such as "Live: The Ike & Tina Turner Show" from 1965, "The Ike & Tina Turner Vol. 2" and especially in the amazing " What You Hear Is What You Get" live at Carnegie Hall in 1971 where the couple makes sexual jokes between songs and the climax is a furious "Proud Mary" by Creedence Clearwater Revival along with the blues that defined the couple from " I Smell Trouble".
It should be noted that the brand new hit by the young Californian band that played the whitest swampy rock had given a couple that had been appearing on the black music charts a big hit. Precisely their first LP, which appeared in an important sales position, was "Working Together", where they recorded "Proud Mary" in the studio for the first time. Sometimes the unsuspecting public believed that the original version was the one that Tina sang and that it was the Creedence who did a cover. This ability to move artistically in and out of the world of black and white culture, both together with the terrible Ike and in a solo career that made her more popular than ever in the '80s, when she seconded Mel Gibson in the third part of Mad Max singing the famous "We Don't Need Another Hero", is what makes Tina Turner an exceptional artist whose talent and influence absolutely exceed the popularity or sales level of this or that record, or any of the two great stages of his career, the wildest and most avant-garde of the Ike and Tina Turner Revue, or the most pop, produced and massive to the mainstream with hits like "Private Dancer".
His stormy life with Ike
The truth is that the history of Anna Mae Bullock, Born in Nutbush, Tennessee, in 1939, she was closely associated for much of her life with that of Izear Luster Turner Jr, most famous as Ike, Tina's punching husband, although some musicologists say that he can also be seen as the authentic creator of rock and roll, along with his Kings of Rhythmns a couple of years before Bill Haley and the Comets. Turner had his band but at one point shared it with singer/saxophonist Jackie Brenston's Delta Cats. In 1956, a daring teenager appeared to them who said that she wanted to sing and they told her that maybe she could be a chorister, but they never tried her out. One day she took the microphone without asking for permission and it became clear that she did know how to sing. Pregnant with the saxophonist, Anna Mae began to stay at Ike's house with the musicians from the bands and soon the guitarist took the saxophonist's girlfriend away and also had a child with her.
This story speaks a little of the turbulent nature that this relationship would always have, whose most sordid details -such as a wedding in a brothel, slavery to and for drugs and beatings in bulk- They were told in great detail in his memoirs, the first of which gave rise to the 1993 biopic "Tina: What's Love Go to Do With It" starring Angela Bassett and Laurence Fishburne, Oscar nominees for their composition of marriage. In the '90s, Ike also wanted to make her side of her story heard with the autobiography "Give me back my last name" assuring that they were both violent, addicted and toxic and that she had exaggerated things to promote the launch of her as soloist. Few people believed him and Ike went down in history as the greatest abuser in rock history.
But going back to the career of Anna Mae Bullock, she only became Tina, the group's singer, when a recording session was already arranged and Brenston was missing. Tina sang "A fool in love", the song went straight to the R&B charts and she became a star. All that early '60s saw the duo drop one hit after another, "It's Gonna Work Out Fine," "I idolize You," "Poor Fool," and as Tina adopted an increasingly bold and raw style on his movements on stage, Ike made his "Ikettes" for him, generating a great visual show that stood out from other more moderate black numbers in his image, such as the elegant Motown girls. Many experts say that it is difficult to understand how important Ike and Tina were for their singles, since they never had a good production and the agreements with Ike were only accepted by small indie or local labels, far from the level of Atlantic, Motown or Stax Records. Perhaps that feeling that he was not recognized during his prime has influenced the progressively more violent drug past. Ike, who was also quite an egocentric who would never let go of his wife's gold mine, but who also took care of every artistic detail of his act.
Hence the duel with the great producer Phil Spector, who spent the unusual sum of 20 thousand dollars to record a single song, River Deep Mountain High (at that time it was a high amount even for an entire LP) which theoretically would be the theme with which he planned to return to the massive hits of his golden age at the beginning of the decade. From that confrontation arose the absurdity that although Ike was prohibited from entering the studio, the song is credited to Ike and Tina Turner. Their mix of white pop provided with the non plus ultra of Spector's mythical "wall of sound", with Tina's deeply soulful voice, were a failure in the United States but curiously it was a hit in England where the public was better prepared. for this gem.
This British interest is not minor, since when Ike and Tina were semi-inactive and she recorded practically alone, but without getting divorced, a confusing and distressing time where she even wanted to commit suicide, It was from London where the Who, the producer Robert Stigwood and the director Ken Russell, summoned her to play the "Acid Queen" in the rock opera "Tommy" in the most psychedelic but also furiously erotic scene of that cult film. Even in those indefinite years personally and artistically, Tina sang memorable songs like the autobiographical "Nutbush City Limits" and "I Can't Find My Mind" with a rather frenetic funky style.
Separated from Ike in 1976 (guitarist died in 2007) Tina found herself a bit artistically adrift for too long until English soft pop band Heaven 17 called her up for a cover of The Temptations' "Ball of Confusion". The song quickly caught on and soon Tina had a contract with Capitol for albums full of hits like "Private Dancer" and "Foreign Affair"; many pop stars were lining up to duet with her now that Ike was gone, including Mick Jagger, Bowie and Rod Stewart (later Barry White and even Eros Ramazotti followed). She also came up with the subject of the Bond film "Goldeneye" and dozens of video clips.
Buenos Aires had the privilege of knowing Tina's "Private Dancer" era, on January 3, 1988 at the River Stadium, where Turner sang the theme from Mad Max and "Better Be Good To Me" but also remembered her more rock era with "The Acid Queen". Among the many who mourned his death, Mick Jagger stood out, who confessed for the first time his great secret: the day he was overwhelmed by having to play with a young Brown in 1966, the one who later taught him his dance steps that immortalized him had been the great tub Ike and Tina had been support along with Jefferson Airplane at the disastrous Altamont festival hosted by the Rolling Stones, where in 1969 the hippie dream ended violently with the hell angels killing an audience member, as seen in the classic documentary " Gimme Shelter" by the Maysles brothers, where, among other things, Jagger appears worried when listening to the Ike and Tina Revue and understanding how hard it would be to surpass it musically.
Retired for a decade, the singer only dedicated herself to approving the London premiere in 2018 of "Tina: The Tina Turner Musical" starring Adrienne Warren and that same year received a special Grammy award for lifetime achievement.
Source: Ambito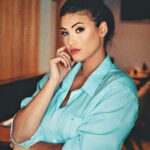 I am an author and journalist who has worked in the entertainment industry for over a decade. I currently work as a news editor at a major news website, and my focus is on covering the latest trends in entertainment. I also write occasional pieces for other outlets, and have authored two books about the entertainment industry.