With her incomparable voice and energetic shows, Tina Turner inspired many – and also with her strength, despite all private difficulties.
Lion's mane and fishnet stockings, high heels and probably the shortest leather skirt in music history: When Tina Turner in this outfit and with a unique voice intoned "The Best" or "Private Dancer", the fans fell at her feet – including many women, because Turner from the emerged from the ruins of a violent marriage as a strong woman.
Her farewell world tour at the age of 70 saw more than a million visitors in 2008 and 2009. After that she retired into private life. Now the rock legend has died in Switzerland at the age of 83.
According to her own words, the Buddhist was not afraid of dying. "I'm ready when the door opens," she told Die Zeit in October 2018. Turner had colon cancer and kidney failure. Her German husband Erwin Bach donated a kidney to her in 2017.
The mother only came back when the daughter was famous
She has processed traumatic experiences, in addition to the abuse by her ex-husband Ike Turner, also a mother who abandoned her and only came back when the daughter was famous. Only later did everything get better, as a documentary about her life in 2021 showed.
In a video message to fans on her 80th birthday in 2019, Turner said: "I look wonderful, I'm happy to be an 80-year-old woman." Even after her active time, she was unforgotten as an icon: in December 2021, the University of Bern awarded the Swiss citizen an honorary doctorate for her "unique musical-artistic life's work".
Musically, the singer is enthroned in the Olympus of rock history alongside icons such as Keith Richards and Mick Jagger. Her smoky soul voice was unique. The music magazine "Rolling Stone" praised her as "one of the greatest voices of all time". She won eight Grammys.
Escape from a hotel from your own husband
Tina Turner, whose real name is Anna Mae Bullock, grew up in a cotton-picking family in the southern town of Nutbush, Tennessee. As a child, she sang in a gospel choir before she was discovered by guitarist Ike Turner, eight years her senior. He formed the band "Ike and Tina Turner Revue". With their first single "Fool in Love" they stormed the charts in 1960. In 1962 they married. Hits like "River Deep – Mountain High" and "Nutbush City Limits" followed. In 1969 they made their breakthrough as an act supporting the Rolling Stones.
As it turned out, Ike was a brutal husband. But Turner couldn't get rid of him and only managed to escape from a hotel in 1976. In order to get the divorce over with quickly, she gave up all financial claims.
In the late '80s, she soberly summed it up: "It wasn't a good life," as seen in the 2021 documentary. But her best years had only just begun, with her solo world career and her love for Erwin Bach.
Tina Turner started again at almost 40, with only a few cents in her pocket and as a single mother of two sons. She first sang and danced in clubs and hotels. She cleaned where she stayed, she said: "I'd rather have someone else's cleaning lady than Ike Turner's wife!" And then came 1984.
At 45 she made her breakthrough with her album "Private Dancer". The hit "What's Love Got To Do With It?" sounded like a self-deprecating, but also bitter, throwback to the marriage to Ike.
The lion's mane? All fake, she admitted
From then on, the singer filled the largest halls and stadiums in the world. When she sang in Rio de Janeiro in 1988 in front of more than 180,000 spectators, she got into the Guinness Book of Records with the huge audience. Concerts have also become unforgettable experiences for tens of thousands of fans in Germany, most recently in 2009 in Cologne, Berlin, Hamburg and Munich.
In the same year she retired from show business. Without ever regretting it, as she always assured. "I've been out so much, a woman misses it when she can't scurry around at home," she said in 2017 on a British talk show for the premiere of a musical about her life story, "Tina – The Tina Turner Musical".
She was 78 years old and let herself be carried away by the moderator to one of her hot hip swings. And the lion's mane? All fake, as she freely admitted. She wears wigs like other people wear clothes.
When others tried to imitate her without her consent, Turner grew angry. In Germany, she fought the poster for a show with Tina Turner songs before the Federal Court of Justice because a double on it looked so deceptively like her. One could get the wrong impression that she herself was pictured on the poster and consequently involved with the show, she argued. And was defeated: The representation on the poster was covered by artistic freedom, the court ruled in February 2022.
Private strokes of fate, late marital bliss
Turner and Bach have been a couple since the mid-1980s. Ten years later they moved to Küsnacht on Lake Zurich in Switzerland. She named her more than 5,000 square meter property on the lake "Algonquin" after her Native American ancestors. Turner later also took Swiss citizenship.
She rejected Bach's marriage proposals for years until she finally said yes in 2013 – Turner was 73, he was 57. He called her "Schatzi", as he revealed to the "New York Times" in 2019. In the documentary, he lovingly told of a relationship that was still crackling after more than 30 years together.
Turner's son, Craig, from a teenage relationship, died by suicide in 2018 at the age of 59. Her second biological son from her marriage to Ike Turner, Ronnie Turner, also died in 2022 at the age of 62. The singer had also adopted two boys that Ike brought into the marriage.
Tina Turner Interview Jonathan Ross Show 2017 The Musical Tina Turner Interview New York Times September 2019 Tina Turner Interview Die Zeit 2018 Judgment Federal Court of Justice 2022 Trailer for documentary film 2021 Grammys
Source: Stern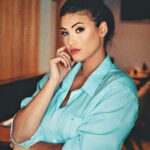 I am an author and journalist who has worked in the entertainment industry for over a decade. I currently work as a news editor at a major news website, and my focus is on covering the latest trends in entertainment. I also write occasional pieces for other outlets, and have authored two books about the entertainment industry.