Only recently Nora Tschirner drew attention to Instagram how inhuman parts of the film industry in Germany are. Jasna Fritzi Bauer agrees with her colleague, as she has now revealed.
In an interview with the "Watson" portal, Jasna Fritzi Bauer unpacked the abuses in the German film industry. With her statements, she confirms some of the allegations made by fellow actress Nora Tschirner a few weeks ago. The discussion about film sets in Germany started with allegations against filmmaker Til Schweiger.
Jasna Fritzi Bauer raises allegations against the film industry

Jasna Fritzi Bauer explains to "Watson" that there is still a lot to be done. "The fish always stinks from the head," she says. "Especially with regard to occupational safety and labor law, the abuses become clear. We don't have a union, the working hours are really often excessive," she emphasizes. Quality often suffers from quantity. "You know that people get tired and can no longer do as they want. Then accidents happen. There is a lack of money to have more production time. But we should produce faster so that we can finish faster," she explains the difficulties .
Although Nora Tschirner – motivated by the allegations against Schweiger – got the ball rolling, the debate among filmmakers has been going on for a long time, says Bauer. But she doubts anything will change anytime soon. Rather, it will take years before an improvement becomes noticeable for everyone involved.
Nora Tschirner initiated the debate

At the end of April, several of those affected had made allegations against Til Schweiger in "Spiegel" and denounced the conditions on film sets. Nora Tschirner was one of the first to assure them of her solidarity. The actress explained on Instagram that she "doesn't do it anymore". Martin Moszkowicz, head of the film production and distribution company Constantin, then told the "FAZ" that Tschirner never came to him. The actress then refuted that herself. "That's not true," she also explained on Instagram and revealed that she actually didn't want to comment on her own person, but generally started the debate. She is currently shooting for a Constantin production and sent a message to production after the first day of shooting.
The message, which she also posted on Instagram, read: "You could use your high positions in the industry to help build a new, fair film system where such conversations become unnecessary because times like this are becoming more normal. Because the scientific fact is accepted that there are 24 hours in a day."
source:///Instagram
Source: Stern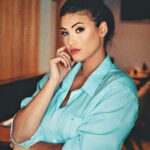 I am an author and journalist who has worked in the entertainment industry for over a decade. I currently work as a news editor at a major news website, and my focus is on covering the latest trends in entertainment. I also write occasional pieces for other outlets, and have authored two books about the entertainment industry.