Guilty for some, heroes for others. Those involved in the Fukushima nuclear power plant face an unprecedented invisible catastrophe.
Valeria: Season 3 (2/6/2023)
New love triangles. New stages. New birthdays. Many things change, but the friendship of these four women remains intact.
Reality is here (6/6/2023)
A successful teacher about to be a single mother and a doctor who doesn't want to get married embark on a false relationship for their mutual benefit… or so they think.
Love is blind: Brazil – Season 3 (6/7/2023)
Can love flourish inside the cabins? Led by Camila Queiroz and Klebber Toledo, a new group of people is looking for their other half.
Never Me: Season 4 (6/8/2023)
The last year arrives and comes loaded with doubts about the university, identity crisis and crushes. How is the group preparing to face its future?
Hounds (6/9/2023) Korean Content
Three friends working for a benevolent moneylender join forces to destroy a ruthless loan shark who preys on the most vulnerable.
Human Resources: Season 2 (9/6/2023)
Between furtive love affairs and office romances, the creatures of Human Resources keep their hands full with a new breed of people.
Black Mirror: Season 6 (6/15/2023)
The Emmy-winning sci-fi drama series returns with a new season.
Transformers: Earth Spark (6/15/2023)
Allied with a human family, a new generation of Transformers search for their purpose while defending Earth from the threat of evil forces.
Glamorous (6/22/2023)
A gender non-conforming youth gets a job at a famous cosmetics company. Will he be able to deal with the challenging industry and chaotic romances?
Skull Island (6/22/2023)
Shipwrecked in the Pacific, a group of explorers encounter various creatures, including the giant ape that controls the island: Kong.
Titans: Season 4 (6/25/2023)
The road back home is paved with obstacles for the Titans as they face off against a powerful and deadly cult that seeks to destroy the world.
The Witcher: Season 3 (Volume 1) (6/29/2023)
The Emmy®-nominated fantasy drama is back with a new season.
Is it cake?: Second batch (6/30/2023)
In this new season of the baking competition, baking artists return for more highly creative challenges.
Movies on Netflix
Once upon a time (6/1/2023)
Before Wonderland and Neverland, siblings Alice and Peter turn to their imaginations to deal with a family tragedy.
Code of Honor (6/1/2023)
About to retire, a homicide detective takes on the case of a murdered little girl, swearing to her parents that he will follow it to its last consequences.
Rich in love 2 (2/6/2023)
When Paula leaves Rio de Janeiro to go back to work as a volunteer doctor in the Amazon, Teto sets out to follow her… and wreaks havoc.
Flees! (6/15/2023)
Chris can't wait to meet his girlfriend Rose's parents, and his nerves are justified when the meeting turns from awkward to terrifying.
Bloody Oil (6/15/2023)
An ambitious oil prospector strikes it rich and turns a simple town into a boom town, drawing the wrath of a charismatic young herdsman.
Rescue Mission 2 (6/16/2023)
Highly trained agent Tyler Rake returns from the brink of death with another dangerous mission: rescue the family from a ruthless mobster.
Pelé: The birth of a legend (16/6/2023)
With a lifetime of adversity behind him, a Brazilian soccer player sweeps through the game with never-before-seen skill and focus.
Sheepdogs (1/6/2023)
Five farmers take on an adorable challenge when they try to turn mischievous Australian puppies into herding dogs in record time.
85 South: Ghetto Legends (6/20/2023)
DC Young Fly, Karlous Miller and Chico Bean take their podcast to the stage for a one-of-a-kind comedy event where anything goes.
To love is to mature (6/21/2023)
Juan Felipe wants to start a family. Elizabeth, continue to reap her professional success. Can her love find her way after fifteen years of dating?
The perfect combination (23/6/2023)
A fashion editor's return to work is complicated when she discovers that the stranger she kissed at a party is her new colleague and her boss's son.
Across the sea (6/23/2023)
After spending a year apart, Raquel and Ares reunite for a trip to the beach. Can their love survive the flirtations and new insecurities?
Nimona (6/30/2023)
A gentleman accused of a crime turns to a shapeshifting teenager to prove his innocence. What if she is the monster she swore to destroy?
documentaries and specials
Arnold (6/7/2023)
Docuseries that chronicles the life of Arnold Schwarzenegger, from his beginnings as a champion bodybuilder to his achievements in Hollywood and politics.
Tour de France: In the heart of the peloton (8/6/2023)
This series portrays the sorrows and glories of the different teams competing in the 2022 edition of the most demanding cycling race in the world.
Deck: The Assassin's Signature (9/6/2023)
In this documentary series, a playing card at a crime scene connects the numerous deaths of a serial killer who terrorized Spain in 2003.
Amy Schumer: Emergency Contact (6/13/2023)
Amy Schumer talks laser face, postpartum sex, her disastrous experience choosing a name for her baby and chewable viagra.
Our planet II (6/14/2023)
Uncover the mysteries of billions of animals that travel the Earth in this documentary series on the great migrations.
The bad family (6/16/2023)
In the 48 hours that he must wait to hear the verdict of his trial, Andrés goes out to a party with friends and reflects on freedom and his identity.
Take care of Maya (6/19/2023)
In this documentary, a Florida couple fights authorities for custody of their daughter after an accusation of child abuse.
Hunt Killers: Season 3 (6/23/2023)
Real investigators share stories of ruthless killers, the efforts to catch them, and the people who brought them to justice.
Muscles and Mayhem: An Unauthorized Version of American Gladiators (6/28/2023)
This docuseries explores the success of the popular '90s TV show "American Gladiators" and explains how it almost came to an end before it began.
children and family
LEGO Ninjago: Rise of Dragons (6/1/2023)
Two teenagers from different worlds use their new ninja powers to defend dragons from villains who want their evil abilities.
Hotel Transylvania (6/1/2023)
Dracula, the owner of the Hotel Transylvania, doubles down on being an overprotective dad when an unwelcome suitor takes an interest in his teenage daughter.
Runaway Chicks (6/1/2023)
A determined hen and a cocky rooster lead their friends on a grand escape from the farm to save them from turning into chicken pies.
My Little Pony: Leave Your Mark – Chapter 4 (6/6/2023)
The evil Opaline goes on a quest to steal cutie marks from ponies and become an alicorn. Will her friends be able to stop her in time?
PAW Patrol: The Movie (6/14/2023)
No barking too small! Ryder and the fearless pups take on the ambitious Mayor Humdinger as he takes over Adventure City.
Almost a narwhal (6/19/2023)
Little Kelp has lived his whole life as a narwhal, but one day he discovers that he is actually a unicorn. He Now he has two worlds to explore!
Ultimate Pokémon Journeys: Part 3 (6/23/2023)
While Ash competes in the Eight Masters Tournament, Goh searches for Mew in faraway lands. Two friends, but one goal: to be the best.
Anime
No doubt in us (6/7/2023)
After accidentally swapping bodies, an emperor and his wife deal with the uncomfortable consequences while learning to accept each other.
Black Clover: The Wizard King's Sword (6/16/2023)
A boy without the power to perform magic fights to become a wizard king, while four ancient wizards return to destroy the kingdom.
Vinland Saga (27/6/2023)
Seeking revenge, young Thorfinn joins the mercenary band of his father's murderer Askeladd, who hatches a political plan.
oku: The private quarters (6/29/2023)
In an alternate history, where most of the male population died, select men are concubines of the shogun women in the oku.
Source: Ambito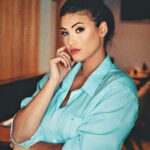 I am an author and journalist who has worked in the entertainment industry for over a decade. I currently work as a news editor at a major news website, and my focus is on covering the latest trends in entertainment. I also write occasional pieces for other outlets, and have authored two books about the entertainment industry.