(This post contains spoilers for the finale of the HBO series "Sucession")
In a recent interview with Vanity Fair after the end of the series "Succession", Jeremy Strong (Kendall Roy) revealed that she tried to jump into the river during a shot at the show's finale.
Putting in context, Kendall is alone in Battery Park during the last shot of Succession. He officially lost control of his family's media empire, as Tom Wambsgans (Matthew Macfadyen) was named Waystar's new CEO following GoJo's purchase of the company. Kendall was robbed of his life's purpose. The show cuts to black with Kendall staring at the river, but that's not where the actor was ready to leave Kendall during filming.
"To me, what happens in the board vote is an extinction level event for this character."said Strong. "There is no going back from that…Listen to the John Berryman poem that Jesse [Armstrong] has given names to these endings. John Berryman himself died by suicide, jumping into the frozen river. I tried to get in the water after we cut off – I got up off that bank and went as fast as I could over the barrier and over the pilings and the actor playing Colin ran".
"I didn't know I was going to do that, and he didn't know it, but he ran over and stopped me," Strong continued. "I don't know if at the time I felt that Kendall just wanted to die, I think he did, or if he essentially wanted to be saved by a proxy for his father.".
Strong called it "a much stronger ending philosophically" to cut to the black as Kendall churns in his emotions over losing the CEO job.
"There's kind of a fatal loop that we're all stuck in, and Kendall's stuck in this kind of silent scream with Colin there as a bodyguard and jailer," Strong said, adding that he's not sure Kendall "would do it." I've had the courage to step into that water."
"My God, that would have been hard to do," Strong added. "But I think you even feel on a cellular level the intention or the longing to cross that threshold. The way that [Armstrong] leaves us with a kind of ambivalence remains true to his vision.
The end of Succession on HBO set an audience record
This Tuesday, HBO confirmed that the series had an audience record with its finale. 2.9 million people in the United States watched the finale on HBO and Max. It is the largest audience that the series has ever had, growing 5% from its previous record, episode six of this last season, released on April 30.
The fourth season of Succession is also a record in its entirety, with an average of 8.7 million viewers, counting those who see it after the premiere. The numbers are reported by Warner Bros. Discovery and come from a combination of Nielsen metrics (for HBO) with the company's own data regarding its Max streaming.
All Succession episodes are available on HBO Max.
Source: Ambito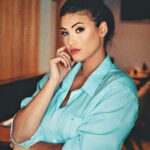 I am an author and journalist who has worked in the entertainment industry for over a decade. I currently work as a news editor at a major news website, and my focus is on covering the latest trends in entertainment. I also write occasional pieces for other outlets, and have authored two books about the entertainment industry.