Dortmund's lucky guy Chico recently introduced his girlfriend Candice. Unfortunately, the new love does not only have positive consequences for them.
Lottery millionaire Chico, whose real name is Kürsat Yildirim, has not been alone for a few weeks now. After the lucky Dortmunder had been looking for a partner for some time, chance brought him together with 36-year-old Candice N., a police officer and influencer. The two met at a traffic stop, of all places.
"We are very happy," wrote Chico, who won a whopping 10 million euros in the lottery in autumn 2022, for a photo of himself and his girlfriend that he shared on Instagram. But apparently not all of his fans and followers share the happiness of love: the comments that appear under Chico's own post are mostly rather unfriendly in tone. "Enjoy the time with her until your money runs out," writes one user. "And already she has the first LV (Louis Vuitton, luxury brand, note d. editorial staff) belt, "says a user in the photo. And in a comment it says, perhaps well-intentioned: "Chico, make a marriage contract, brother!"
Chico is in a happy relationship

However, the critical comments about the relationship between the two are not limited to Chico's Instagram account. Candice, who has nearly 36,000 followers herself, gets nasty comments about almost every picture she's in with the multimillionaire. "Take advantage of Chico's reach to get a few followers. (…) It's best to marry Chico so you can collect his money. Haha. If Chico didn't have his fame and his millions, you would have him with repulsive looks considered," writes someone. "Everything just for the money," believes another user.
Elsewhere it says "money" or "Don't get married!" A user even remembers the divorce of Dieter Bohlen and Verona Poth, which would have cost the musician dearly at the time. Candice N. rarely responds to offensive comments, but once she writes herself: "We both read the comments. Sometimes it's laughable or crying what people say when they hide behind a fake account or anonymously hide."
When money is no object
Collect luxury or travel into space: this is what the super-rich do in their free time
Jealous comments on the web

It seems pretty certain that Chico and Candice won't let their relationship be spoiled by trolls, envious people and skeptics. It is even safer, however, that there are still reasonable Internet users who, fortunately, speak up regularly. "Some people talk so negatively about someone they don't know. I wish them all the luck in the world," a user defended Chico's friend. And another comment says: "This woman is really good for him … now he has found real wealth!"
Source:
Source: Stern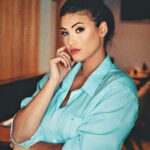 I am an author and journalist who has worked in the entertainment industry for over a decade. I currently work as a news editor at a major news website, and my focus is on covering the latest trends in entertainment. I also write occasional pieces for other outlets, and have authored two books about the entertainment industry.