Master director Tim Burton is best known for his gothic fairy tales. The filmmaker with a heart for outsiders turns 65 on Friday.
Master director Tim Burton (65), who has never won an Oscar despite two nominations, is known for eerily beautiful gothic fairy tales such as "Edward Scissorhands" (1990), "Sleepy Hollow" (1999) or the animated film "Frankenweenie". (2012), an homage to classic Universal monster films. What sets Burton apart is his stunningly beautiful, morbid visual style. The filmmaker also recently directed the first four episodes of the streaming series "Wednesday" (2022), which is the number one most-watched English series in the history of the streaming service.
As a child and young teenager he made films

The director, screenwriter and illustrator was born and grew up in sunny California, more precisely in Burbank in Los Angeles County. The city is also home to the venerable Warner Bros. and Disney film studios, for which Burton has directed a number of films.
However, young Tim never really got used to his place of birth. From the sunny Californian weather without really noticeable seasons, he took refuge in his childhood and youth in the legendary horror and monster films from Universal ("Dracula", "Frankenstein", "The Mummy") and Hammer Films ("Frankenstein's Curse", " Blood for Dracula"). As a child and young teenager, he shot stop-motion animation films in the garden of his parents' house.
After studying art, Burton began an apprenticeship in Disney's animation department. There he worked as a storyboard artist, graphic designer, art director and concept artist, among other things. However, his concept art never made it into finished films because Disney considered his work too dark for the child audience. "It was great to be 21 and get paid to draw all day", .
Breakthrough with "Pee-Wee's Crazy Adventures"

Burton aroused the interest of Warner Bros. with his short film "Vincent", which he made at Disney and which was only shown for two weeks in a single cinema in Los Angeles. Pee-wee's Big Adventure", 1985) his first full-length feature film – and this not only delighted the critics, but also became an instant hit.
With a budget of seven million US dollars (equivalent to around 6.5 million euros), around 41 million dollars (around 38 million euros) were recorded. For those times and for a debutant director, this was a tremendous financial success. From then on, the studio bosses trusted the unconventional filmmaker with the personal vision.
In the following years, Burton created the unforgettable film classics "Beetlejuice" (1988), "Batman" (1989), "Edward Scissorhands", "Batman Returns" (1992) and "Ed Wood" (1994). Although the filmmaker is better known for his gothic fantasies, his two Batman films defined the look of the Dark Avenger and Gotham City. To this day, the two works are style-defining for rather dark superhero films.
Collaboration with Johnny Depp and Helena Bonham Carter

So far, Burton has worked eight times with superstar Johnny Depp (60) – in films such as "Charlie and the Chocolate Factory" (2005), "Sweeney Todd – The Devilish Barber from Fleet Street" (2007) or "Dark Shadows" (2012). His former partner Helena Bonham Carter (57), with whom Burton has two children, has been in front of the camera seven times for the master director.
The private life of the two stars, who sometimes seem so eccentric, repeatedly caused a stir in the tabloid press. They met on the set of Burton's "Planet of the Apes" remake (2001). Supposedly, the first ones addressed to Bonham Carter were, "I think you'd make a great chimp."
As a couple, Bonham Carter and Burton didn't live under one roof, but in two adjacent houses. "He always comes by, which is really touching," regarding this unusual living arrangement. Burton jokingly added that he wouldn't be at odds with Bonham Carter because of their physical separation, which is good since both he and she have "a whole lot of it."
However, the relationship ended in 2014. They have "separated by mutual consent" and are also "still friends". In the meantime, the director with a heart for outsiders has made his relationship with the Italian screen icon Monica Bellucci (58) public.
In Burton's next film project "Beetlejuice 2" Bellucci plays the wife of the title character played by Michael Keaton (71). Also in the late sequel are "Beetlejuice" star Winona Ryder (51), Willem Dafoe (68) and "Wednesday" star Jenna Ortega (20). The film is slated to hit theaters next September.
Source: Stern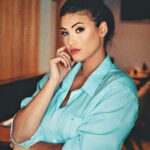 I am an author and journalist who has worked in the entertainment industry for over a decade. I currently work as a news editor at a major news website, and my focus is on covering the latest trends in entertainment. I also write occasional pieces for other outlets, and have authored two books about the entertainment industry.