A musical closing by the singer and composer Juana Molina will crown the opening ceremony of the first International Film Festival of the Province of Buenos Aires (Ficpba), which will take place next Wednesday the 30th at 7:00 p.m. in the Alberto Ginastera room of the Provincial Center of the Arts Argentine Theater of La Plata.
According to the organizers, at the gala that opens the Festival there will be announcements related to the audiovisual sector, and recognition of artists such as Cecilia Roth, Julieta Díaz, Leonardo Sbaraglia, Mercedes Morán, Gaston Pauls, and Norman Brisky, among others.
Ficpba, which brings together films from Argentina, Latin America and the world, will carry out its functions with free admission from September 2 to 10 in the cities of La Plata and Merlo, with five competitive sections.
"The audiovisual sector of our province provides a very important space, not only from an identity point of view, but also in terms of employment for thousands of cultural workers," said the president of the Cultural Institute of the Province of Buenos Aires, Florencia Saintout, organizer of the sample.
"It is a great pride for us as a Cultural Institute -added the official- to be able to give comprehensive institutional support to this sector and in turn continue promoting the development of more narratives that reflect how diverse and rich the culture of Buenos Aires is. It is a window to the world of what we can be as a province and also to invite everyone to film here".
In addition to those named, Nicolás Pauls, Jorge Marrale, Cecilia Dopazo, Osmar Núñez, Inés Estévez, Andrea Bonelli, Osvaldo Santoro, Celina Font, Luis Ziembrowsky, Virginia Innocenti, César Bordón, Mirta Busnelli, Cristina Banegas, Mora Recalde, Fabio Aste, Ana María Picchio, Paloma Contreras, Guillermo Pfening, Rafael Federman, Juan Palomino and Victoria Onetto, will each receive recognition for their work, artistic career and human commitment at the ceremony.
The closing of the gala will be in charge of Juana Molina, who will offer a show open to the public on Avenida 51, between 9 and 10, with free admission that can be reserved online from Monday 28 at 10 at the link https://forms .gle/NLRCDMHAYHrZnFP29
The Festival will have two main venues: in La Plata they will be the Cinema Paradiso cinematographic complex, where productions that will be part of the competitions and exhibition sections will be screened for free, and the Provincial Center for the Arts Teatro Argentino, which will be the meeting point, where permanent activities, master classes, open interviews, workshops and acoustic shows will take place.
Film screenings will also be held at the Merlo Audiovisual Pole and there will be special activities, as well as in theaters in 40 municipalities.
Ficpba will have five competitive sections: International Fiction Competition, International Documentary Competition, International Short Film Competition, Buenos Aires Feature Film Competition and the Buenos Aires Short Film Marathon Competition.
There will also be six exhibition sections such as "International Panorama", "Argentine Panorama", "Women and Dissidence", "FICPBITA" (dedicated to children), "Festival of Festivals" and "We Project". The director Andrés Di Tella will also present a performance based on his film "Diarios".
There will also be master classes that will be given by figures representing the sector: Albertina Carri, Patricio Vega, Fernando Martín Peña, Juampa Miller and Seba de Caro.
In the open interviews, Cecilia Dopazo, Julio Chávez, Esteban Lamothe, Juana Molina, Carlos Sorín, Jazmín Stuart and Orco Videos will participate together with Melanie Anton Def and Eduardo Pinto.
Music will also be present at the FICPBA with acoustic shows, concerts, electronics and DJs. Juana Molina, Santiago Motorizado, Antonio Birabent, Sergio Pángaro, Coronados de Gloria, Lautaro Barceló, Fernando Cabrera will be presented together with Inés Estévez, Les Neon and many more artists from Código Provincia and Electrónica Buenos Aires, programs promoted by the Cultural Institute.
Source: Ambito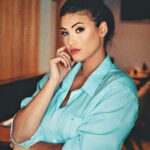 I am an author and journalist who has worked in the entertainment industry for over a decade. I currently work as a news editor at a major news website, and my focus is on covering the latest trends in entertainment. I also write occasional pieces for other outlets, and have authored two books about the entertainment industry.