Mitch Winehouse, the father of the late singer Amy Winehouse, lets the world read his daughter's journals. Why? Because he wants to show everyone that she was more than music, drugs and alcohol consumption.
On September 14, 2023 Amy Winehouse would have been 40 years old. However, the successful singer died tragically in July 2011 in London at the age of only 27. She was found lifeless in her home. It later turned out that the singer died of alcohol poisoning, she is said to have had 4.16 per mille in her blood.
When you think back to the singer with the backcombed hair, you automatically think of alcohol and drug consumption alongside her legendary music. Her father wants to change that by publishing a book that collects the singer's diary entries and notes: "Amy Winehouse – In Her Words" it says.
Mitch Winehouse would like to remind you that Amy Winehouse was much more than this successful singer with a high degree of addiction. He told ET Online: "Amy is so much more than the singer, the person struggling with addiction, so much more than that. She was loving, kind, a wonderful family member and a wonderful friend. That is what we want people to know about Amy."
Amy Winehouse has been reported to have been clean for a while

While he doesn't want to falsify or downplay his daughter's potential for addiction, it's important for him to clarify one or two things: "Not many people know that she was drug-free for three years before she died, so that's important." What remained, however, was the alcohol. There has often been speculation in public that Amy Winehouse suffered from mental health problems. Here, too, her father clears up the rumors: "She wasn't depressed," he says in an interview with "ET".
Amy Winehouse was pronounced dead on a Saturday, and according to her father, she was said to have been in a good mood on Friday, playing the drums and singing along. In her rather short career, she released her first album in 2003 and died in 2011, the artist sold over 30 million albums.
The new book includes never-before-published diaries, handwritten song lyrics and family photos. Her father hopes the diaries convey Amy's kind heart. A little anecdote told Mitch Winehouse directly: "The paparazzi chased us into the house once and then she said, 'Dad, I'm sorry for you'. She made them all tea and sandwiches and then in the summer she would go out and play soccer with them , Do you know?"
After her death, Mitch Winehouse founded the "Amy Winehouse Foundation", a foundation that primarily helps young people with a variety of problems such as addiction and offers music therapy to children, among other things. A portion of book proceeds will benefit the charity.
Sources: ,
Source: Stern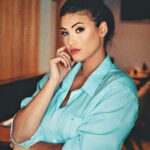 I am an author and journalist who has worked in the entertainment industry for over a decade. I currently work as a news editor at a major news website, and my focus is on covering the latest trends in entertainment. I also write occasional pieces for other outlets, and have authored two books about the entertainment industry.