Since the Spanish World Cup victory, the world has mainly been discussing the head of the association Luis Rubiales and the kiss he forced on player Jennifer Hermoso. Now his uncle and former office manager speaks up. And judge him harshly.
The debate overshadows the victory: Ever since the Spanish team won the women's World Cup with ease, everyone has only been talking about one man. Luis Rubiales, head of the Spanish football association RFEF, kissed player Jennifer Hermoso without being asked in the triumphal frenzy. And sparked a debate about machismo and abusive behavior. Now the uncle of the still unreasonable Rubiales speaks up. And he stands behind Hermoso on behalf of the family.
In an interview with the newspaper "El Confidencial" he leaves little doubt as to what he thinks of his nephew's behavior. "We Rubiales stand up for the idea of ​​dignity. And that means standing behind Jenni, defending her. And rejecting the shameful behavior of this association president," he explains.
Reckoning with the nephew

In general, Rubiales seems to think little of his brother's son. "I had no doubts that he would fail," he admits. "But I never thought it would be so grotesque." He had supported him at the beginning of his presidency: when Luis Rubiales took over the post in 2018, his uncle ended his career as a journalist to become his office manager. Two years ago, however, he threw in the towel. Because of countless missteps by his nephew, as he now emphasizes.
From day one he was downright power-drunk. "He called me into the office and addressed me as Juan. He used to call me uncle," he recalls. "Then he tells me I can't call him Luis anymore. I should address him as President." The behavior only got worse over time. Luis Rubiales would have created an atmosphere of fear among the employees, dismissing almost 30 people at once without reason.
Juan Rubiales also confirms recent allegations of a private trip to New York disguised as a business trip. He traveled with me. His nephew was only interested in spending time with the Mexican painter Roberta Lobeira. "There wasn't even a single meeting. Just a meal with a former player that he wanted to sell as a working meal," he accuses Luis. "The But that wasn't true. He spent five or six days just with her."
Open invoices

Juan Rubiales openly admits that he sees the current situation as an opportunity to come clean. Serious allegations have been made against him in the past that he sold himself. "I haven't worked for a year and a half, I live in rented accommodation. I don't seem to have sold myself very well," he jokes about it now.
Despite her son's misconduct, he understands that his sister-in-law and Luis' mother have now gone on a hunger strike. "I respect his mother. All mothers have rights. I know she is suffering. But my mother is suffering too. And the mothers of the 25 employees he fired without wrongdoing." In the end, there is only one person who is responsible for the failure, Juan Rubiales believes: "His biggest enemy is himself. His arrogance, his authoritarian attitude."
Source:
Source: Stern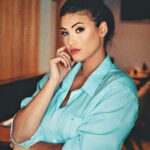 I am an author and journalist who has worked in the entertainment industry for over a decade. I currently work as a news editor at a major news website, and my focus is on covering the latest trends in entertainment. I also write occasional pieces for other outlets, and have authored two books about the entertainment industry.