The actress and model Silvina Luna died this Thursday after being hospitalized for three months in the italian hospital of the City of Buenos Aires. Had 43 years and, since 2011, his health began to deteriorate as consequence of an aesthetic intervention on your buttocks, by the surgeon Hannibal Lotocki.
The model was admitted to the Italian Hospital due to encephalopathy of multi-causal origin and was hospitalized from June 13 with a respirator until Thursday June 29 and after a slight improvement, a month later, she went to a common room. However, on August 10, she returned to intensive care due to a serious infection. In the last few hours she had had new complications until her family finally decided to disconnect her.
Last Saturday, July 1, it was announced that the model once again "required mechanical ventilatory assistance because of his generalized muscle weakness", and that "no new complications were found in the latest studies". The following Monday, the Italian Hospital indicated that, although it needed "mechanical ventilatory assistance", it was "awake and with vital signs".
Throughout the months of hospitalization, his state of health oscillated between slight improvements and new complications. On August 10, it was learned that the condition worsened and they had to sedate her and feed her with a tube. Yanina Latorre gave details in LAM: "He is with a probe in therapy; has muscle atrophy and water in the lungs. She is sedated and they are waiting for the moment to put her on the ventilator, waiting until the last minute. They are feeding her with a tube, because her digestive system is no longer working as it should".
In the last moment, He had also revealed that he had to undergo dialysis three times a week and that he was on the waiting list for a kidney transplant.what with your current frame you should expect.
In mid-May of this year, in a television interview, Silvina Luna had said that although her disease required a transplant, this procedure was still not "urgent", since they had to wait first to "solve a health issue", in reference to the presence of a bacterium in their body. Regarding her current situation, Luna had shared on her social networks earlier this month that she was admitted to the Italian Hospital and that a "new path to transplantation" was beginning.
"I came to hospital because the results of the biopsy of the mycobacteria came out and it was finally possible to detect which are the specific remedies that I have to take, which are two. So I am trying it now. I have to try them here, hospitalized, to see if I tolerate them," the actress said in a video posted on Instagram. "For now everything is perfect. I'm happy with that. I've already started another path that has me excited, that is the way to combat this bacterium and the way to transplantation," had asserted.
What is methacrylate, the cause of Silvina Luna's disease
He polymethyl methacrylate it's a stuffing material which is normally used for manufacture of bone and dental prostheses, as well as acrylic nails or breast prostheses, to a lesser extent. Its use in aesthetic surgeries can cause allergic reactions, migration, infections, pain, necrosis and hypercalcemiathe disease that Silvina Luna has.
What is hypercalcemia
Hypercalcemia is a disease in which the level of calcium in the blood is above normal. Too much calcium in the blood can weaken bones, form kidney stones, and interfere with heart and brain function.
Hypercalcemia can have no signs or symptomsor they can also be serious. The treatment depends on the cause. In the case of the model, the kidney problem occurred because the methacrylate, which is a plastic, covered the entire filter that the kidney naturally has. In this way, it stopped working and can no longer filter the blood to produce urine.
Faced with chronic renal failure, the only way for patients to stay alive is by hemodialysis, which consists of connecting to a machine that takes the toxins from the blood produced by the body. This treatment offers a good quality of life to patients, as long as the corresponding treatments are followed.
Silvina Luna's career
native of rosary beadsSilvina Luna began her career as advertising model and host until he got his claim to fame: the second edition of Big Brother in 2001.
In the following years, he participated in several magazine and comedy plays, as well as participations in television series and soap operas such as put Francella and The Roldáns.
He participated in the 2005, 2009 and 2017 editions of Dancing for a Dream. She was a panelist on shows like Zapping and Fox for everyone.
He filmed a leading film in 2015: the film "Crazy her, crazy me"by Nicolás Tannchen.
One of his last participations was in the reality show The celebrity hotelalthough he had to leave the competition due to his health problems.
Source: Ambito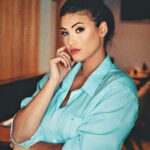 I am an author and journalist who has worked in the entertainment industry for over a decade. I currently work as a news editor at a major news website, and my focus is on covering the latest trends in entertainment. I also write occasional pieces for other outlets, and have authored two books about the entertainment industry.