Amira Pocher is single again. In the "Die Pochers" podcast, she and her husband Oliver announced their separation after seven years together. The presenter does not seem to have a lucky hand with men.
Amira Pocher has established herself alongside comedian Oliver Pocher in the German media landscape in recent years. The Austrian is smart, beautiful and successful – only in love it just doesn't work. After seven years together, four of them married, the couple announced their separation.
In recent years, Amira Pocher, with her easy-going and honest manner, has occasionally spoken out of the relationship sewing box, and there was also talk of ex-partners before Pocher. As now with the separation and previous relationship problems, she spoke mainly in one of her podcasts about her love life. The couple runs a podcast, "Die Pochers", together, another, "Hey Amira", the 30-year-old moderates alone and invites guests.
Amira Pocher's ex-boyfriend cheated on her "from front to back"

In her solo project, the trained make-up artist revealed about her first boyfriend about two years ago: "I also had a relationship that was full of violence." Her assumption today is that her ex-boyfriend probably had the personality disorder narcissism. "He betrayed me from start to finish!", she also admitted. She herself said two years ago that she no longer suffers from the past relationship because she is a strong personality. But Amira Pocher only realized how toxic the relationship was some time after the relationship: "You only see the good. You only remember the good. But in the blatant situations, looking back, you think, 'Oh my God what a psychopath'."
In "Hey Amira" she even talks about domestic violence in an interview with psychologist Nesibe Özdemir: "You somehow want to talk yourself into it. But if your hand is raised against you even once, you have to let go."
Amira Pocher was also exposed to massive control in her relationships, in the podcast "Die Pochers" she tells unembellishedly what happened to her: "We lived together, but he left work because I didn't pick up. He thought really, I'm cheating here or something. And I just fell asleep while watching TV."
In a more recent episode "Hey Amira" she talks to the qualified psychologist Monika Matschnig about another pathological experience: "I also had difficult relationships. When the neighbor's cell phone rang, it said you had a second cell phone and then we were since the beds were taken apart. So really pathological. And that for over two years". This man is said to have regularly checked Amira's car to see if she was driving "secretly".
She also admits what effects past relationships can have on the present: "It's definitely crazy what something like that does to you. When you get out of a relationship and into a new one, you take it all with you."
So far it is not known why Amira Pocher separated from comedian Oliver Pocher, only that she made this decision. He "didn't want the separation," reports Oliver Pocher, also in the current podcast episode "The Turtle" by "Die Pochers". The couple have two sons together, aged two and three. The professional projects, such as the joint podcast, should continue in the future.
Sources: , , , , ,
Source: Stern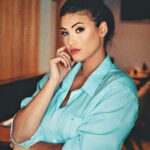 I am an author and journalist who has worked in the entertainment industry for over a decade. I currently work as a news editor at a major news website, and my focus is on covering the latest trends in entertainment. I also write occasional pieces for other outlets, and have authored two books about the entertainment industry.