In the past few weeks, Oliver Pocher and his wife Amira Pocher have been very open about their marriage crisis. Now their relationship has finally failed. A review.
Oliver Pocher and Amira Pocher did something atypical for prominent couples over the past summer months: they talked about their marital problems themselves and thus put the topic in the press at all. Now the two used a new episode of their couple podcast "Die Pochers" (Podimo) and announced their separation.
Oliver Pocher and Amira Pocher: This is how they addressed their marriage crisis

Already in the "Bild" interview in March of this year, Pocher and Pocher teased each other. When asked if he liked to spoil Amira, the comedian replied: "Yes, but it has become more and more difficult. And then you lose a little bit of pleasure." In the same interview, Amira Pocher said that in general she could imagine another child. "But now let's focus on the two of them. When they sleep through the night and calm down, you can talk about it again," she said.
A few months later, the world looked a little different in the podcast. At the end of June, the topic of the marriage crisis was already part of the two's podcast. "We don't shy away from difficult issues either," said Oliver Pocher. "It's just difficult at the moment," said Amira. "The people around us also know that and one of them chatted, but that's how it is," she said of the rumors of the crisis that were already circulating.
Separation after four years of marriage

Oliver Pocher also commented on why he has been appearing alone at events more and more recently. "I always offer you everything, you can come with me everywhere. You used to like to come with me, now I do it alone. Just sitting at home doesn't do anything either," he said.
At the beginning of July, Oliver Pocher also teased his wife on television. In the RTL show "Because they don't know what's happening", Pocher was asked about his marriage problems by moderator Thomas Gottschalk at the beginning of July. "Are you a surprise guest or did you get kicked out at home?" he asked. Pocher replied: "I haven't been kicked out yet, but I take every opportunity not to be at home."
Old love rusts after all
Stars and their love tattoos – this is where the laser had to go after the breakup
In August, Amira advertised her new dating show and spoke about the format on the RTL program "Punkt 8" with Marco Schreyl and Annett Möller. The moderators also spoke to their colleague about the marriage crisis. "We will always be a team, no matter what happens or how it ends. I hope that we will always be a team, of course. That's the goal," said Amira then.
And also in large starinterview a few weeks ago, she teased her husband when she said of her son that "he would be the first pocher to become a gentleman". In a recent podcast episode ahead of the breakup news, she revealed her husband's next girlfriend would be in her early 20s.
The Pochers will continue to work together on business and as parents of two sons.
Sources: /
+++ Read also +++
Source: Stern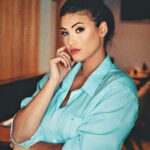 I am an author and journalist who has worked in the entertainment industry for over a decade. I currently work as a news editor at a major news website, and my focus is on covering the latest trends in entertainment. I also write occasional pieces for other outlets, and have authored two books about the entertainment industry.