The Termas de Luro and the Termas de Médanos are the options offered by the Buenos Aires town of Villarino to enjoy the thermal waters, sports activities, mud therapy and relaxation in hotel complexes that have spas and huge pools in natural landscapes just over 700 kilometers from the City of Buenos Aires.
Located in the southwest of the province and only 45 kilometers from the city of Bahía Blanca, this municipality of 30,000 inhabitants pays its name to the naval pilot Basilio Villarino, explorer of Patagonia in the 18th century.
In this district, tourists can enjoy two thermal parks: Termas de Luro, located at kilometer 809 of national route 3, and Termas de Médanos, on national route 22, at kilometer 737.
Luro's hot springs flow from a depth of 968 meters and therefore has an exceptional temperature of 70 degrees.
Laura Córdoba, responsible for Tourism of the commune, explained to Télam that "studies carried out by the University of the South, gave that the age of the water that comes out of the spring is approximately 920,000 years."
Due to its chemical characteristics, its waters are considered hypermarine and due to the physical characteristics, hyperthermal; Extraordinary for its preventive, palliative, relaxing, restorative, toning and anti-stress effects, added the official.
Those who travel along route 3 can stay at the hotel that operates the hot springs as a resting place or to relax and enjoy the hot springs, the landscape and the river.
The hotel complex has a thermal spa that includes three indoor pools at different temperatures, hydromassage tubs, a static waterfall and a hydrothermal sauna; open-air inn with five thermal pools at different temperatures, mud therapy sector, among other services such as different types of massages, bicycle rental, guided walks and private access to the Colorado River beach, which acts as a boundary between this municipality and the Rio Negro province.
The water temperature is 74 degrees with a high content of chlorinated calcium, magnesium, ferruginous and brominated iodine salts that give it an important therapeutic action and its characteristic reddish color.
Exposure to the Luro Hot Springs helps to improve skin conditions, respiratory tract, bone problems, acts as antiallergic and antibacterial.
This complex is open every day. Those who want to know them can do so by accessing www.termasdeluro.com or by calling 291-649-3194, by WhatsApp at 5492916493194 or by email [email protected]
Meanwhile, the Termas de Médanos complex is located in what was formerly a driving plant for the Presidente Perón gas pipeline, inaugurated in the mid-50s and which gave birth to the Gas del Estado company in the region.
The drilling of the emerging well was carried out by the state company YPF at a depth of 1,174 meters and more than 50,000 liters per hour gush out of it at 74.3°.
Over time, the gas pipeline was insufficient for the demand and, a few years later, it became obsolete and with it the Médanos power plant, but the well continued to produce water.
In 1994, a group of local businessmen bought the property and developed a tourist complex that put Médanos on the thermal map of the country, until it was finally inaugurated in 2009.
"It is a property of 18 forested hectares, with all the necessary infrastructure to enjoy with the family, a natural landscape, wild animals, birds, otters, llamas, and fish," said Laura Córdoba.
This complex has six covered pools with different temperatures and an artificial thermal lake formed by a peninsula and an island that can be explored by walking along its shores or through bridges or on a fun kayak ride.
In addition, the place has a space for camping with showers with hot water 24 hours a day from the same spring.
Like the Luro hot springs, its waters are relaxing, restorative and anti-stress.
This complex is open from Thursday to Sunday. Those who want to know them can do so by accessing www.termasmedanos.com.ar or by calling 291-571-0284.
Source: Ambito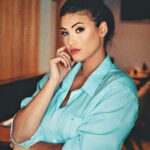 I am an author and journalist who has worked in the entertainment industry for over a decade. I currently work as a news editor at a major news website, and my focus is on covering the latest trends in entertainment. I also write occasional pieces for other outlets, and have authored two books about the entertainment industry.