September 5, 2023 – 20:40

The co-star of the acclaimed series revealed that the platform does not pay him for the reproductions of a show that is still one of the most popular in the world.

In another episode of strike in hollywood, the actor Aaron Paul made a surprising, but understandable, criticism of Netflix for the reproductions that the platform receives for the multi-award-winning Breaking Bad. "They don't pay me anything" revealed the star of that series in relation to the discussion about the rstreaming regulars run by SAG-AFTRA, the Actors Union.
"They don't pay me anything from Netflix for Breaking Bad, and to be completely honest, it seems crazy to me," said Paul in one of the actors' protests against the AMPTP (the association that brings together the big Hollywood producers). "Series live forever on these platforms, The other day I saw that Breaking Bad was trending on Netflix and it should be common sense, but these companies They got away with not paying people their due."indicated the actor, to the EW publication, and sentenced: "It is time for that to end."
bryan cranstonco-star of Breaking Bad, It is also part of the protests of the actors and in July he was one of the first to speak out against the companies that own these platforms. At that time, the actor pointed directly at Bob Iger, CEO of Disneyfor his statements that the demands of the unions "They weren't realistic."
"We have a message for Mr. Iger," Cranston said: "We know you look at things through a different lens. We don't expect you to understand who we are. But we ask you to listen to us and tell us that we are not going to lose our jobs so that give them to robots. We are not going to allow it to destroy our right to work and earn a living wage. And lastly, and most importantly, we are not going to allow it to take away our dignity. We are in unity until the end."
Adam Driver takes aim at Netflix and Amazon for the Hollywood strike
Adam Driver and the cast of Ferrari of michael mann they were in the Venice Film Festival on Thursday, giving the Biennale a much-needed boost of star power for one of this year's most anticipated films.
Driver and Mann alternated between discussing the film and talking about the dual strikes that dominate discussion among industry attendees in Venice. Ferrari received a waiver from SAG-AFTRA's provisional agreement to allow Driver and his co-star Dempsey to attend Venice to promote the film.
One of the conditions of the exemption is that distributors comply with SAG-AFTRA's demands, which streaming platforms have not done.
"How is it possible that small distributors like Neon and STX International can meet the union's demands even before negotiations but for big companies like Netflix and Amazon it's impossible?"Driver asked wryly while stressing his full support for the SAG-AFTRA union.
Going to Venice to support the film, Driver said he hoped it would help "stop the bleeding a bit" by helping people from IATSE and SAG-AFTRA get to work.
Source: Ambito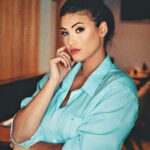 I am an author and journalist who has worked in the entertainment industry for over a decade. I currently work as a news editor at a major news website, and my focus is on covering the latest trends in entertainment. I also write occasional pieces for other outlets, and have authored two books about the entertainment industry.