Manuel Cortez is celebrating his acting comeback as a star chef in "Hotel Barcelona". It was so beautiful on set – and so difficult beforehand.
After a separation and his last major film "A Summer in Salamanca" (2019), things became a little quieter for the actor Manuel Cortez (44, "Fear in Luggage – Still Live Happily") due to the pandemic. This was followed by a new love, an intensive examination of psychological and philosophical topics and a serious illness.
Now he is back on television. In the two-part TV series "Hotel Barcelona" (September 10th/17th, 8:15 p.m., ZDF) he plays the lively star chef Castillo Diaz. In an interview with spot on news, the German-Portuguese artist, who was born in Freiburg im Breisgau, talks about the wonderful time on set in the Catalan capital Barcelona – and about the very difficult time beforehand.
With "Hotel Barcelona" you are celebrating a kind of acting comeback. Would you describe it that way too?

Manuel Cortez: It's the first major film project since my illness, that's true. Because of Corona, I haven't really done much in the last two or three years. Now it's finally working again and I'm very happy about that.
How did the long break come about?

Cortez: My last big film came out in 2019, then Corona came and I did a bit of theater. After that, one film project after the next fell through and in 2021 I became seriously ill myself. I had Corona and was in the hospital for several weeks – and it didn't look good. I managed to do it, but had to struggle with Long Covid for quite a long time: I was exhausted very quickly, had dizziness and circulatory problems. It took until the end of 2022 before I was fit enough to film again. At "Hotel Barcelona" everything finally worked again.
How do you like your role as star chef Castillo Diaz?

Cortez: I had a lot of fun playing a star chef because I'm also very interested in cooking in my private life. This Castillo also brings a nice liveliness and speed to the two-piece. It was really a pleasure.
Do you know a star chef that you could take a bit of inspiration from?

Cortez: A few years ago I was on a TV show ["Hell's Kitchen", 2014, Sat.1, Red.] took part in which I was able to get to know a lot about the topic of cuisine and also about star chefs like Jamie Oliver and Frank Rosin. That's why I knew the tone, the speed of work and the slightly choleric and insulting nature of these artists at the stove.
Castillo brings the story to life, that's true. But he also has a fear of failure. You have dealt a lot with fears and even wrote a book about it ("Fear in your luggage – Live happily anyway"). What advice would you give Castillo if you were his coach?

Cortez: If Castillo were my client, I would first ask him to consider why he absolutely needs this star and why he thinks so little of his own work. Then we would have worked out what skills, strengths and qualities he has and why he fixates so much on what he doesn't have. We would deal with the fact that he should focus on his goal with a positive attitude and belief in himself – instead of looking desperately at the lack. The focus should be on the quality in the here and now and not the lack of the non-existent star.
Speaking of fear, how excited were you before and during filming after the long Corona break?

Cortez: In general, filming was an incredibly great time for me. It was like exhaling after a particularly difficult time. Of course, the city of Barcelona also contributed a lot. This is a city with vibrancy and joy. Emotionally it was also a big challenge because of course sometimes the physical memory came back and I was afraid that I might not be able to do it after all. I just went into this shoot every day, step by step, and did it as well as I could. Everything went well and so it was a very nice experience for me, which I saved. Since then I can really see Long Covid as a thing of the past, which is wonderful.
Where can you really relax, wind down and recharge your batteries?

Cortez: I am a city person and love nature. The best way for me to really relax is in nature. I really like being in the forest, I need idyll, peace and solitude in connection with nature. This has become more and more important to me over the years. Hiking in the mountains, the small stream in the forest or sitting in the dunes somewhere by the sea – places like this in nature are incredibly good for me and I celebrate that too. But I'm also a fan of colorful, lively and powerful cities like Barcelona, ​​where you can just let yourself go or sit in a café and watch the people. Of course I also look at a church, but I love even more to experience the core, the heart of the city through its residents.
The first part of "Hotel Barcelona" is about, among other things, a fictional princess of Spain who falls in love with a Catalan rebel leader. Are you interested in the real royals?

Cortez: Zero. So really zero. I only notice what is inevitable, like the drama surrounding Harry and Meghan or the death of the Queen. For me, the monarchy is absolutely outdated, outdated and I find it unbelievable what it costs taxpayers every year. But it was great for our film to connect a Spanish princess and a Catalan who is in conflict with the Spanish royal family. This has a certain explosiveness and is also exciting from a historical perspective. But I'm really not interested in the royals as a celebrity talk topic.
Not even Meghan as a former actress colleague?

Cortez: I saw her in "Suits" and thought she was really cute. That was it already.
What can your fans look forward to next after "Hotel Barcelona"?

Cortez: I just shot something in Dresden. And then let's see. I'll definitely be back and looking forward to everything that comes…
Source: Stern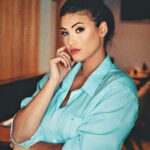 I am an author and journalist who has worked in the entertainment industry for over a decade. I currently work as a news editor at a major news website, and my focus is on covering the latest trends in entertainment. I also write occasional pieces for other outlets, and have authored two books about the entertainment industry.