Today marks the 125th anniversary of Empress Elisabeth's death. Why the myth of the rebellious "Sisi" lives on to this day.
125 years ago today, Empress Elisabeth of Austria-Hungary, also known as "Sisi", died a tragic death at the age of 60. As the Empress was walking along Geneva's lakeside promenade at lunchtime on September 10, 1898, the anarchist Luigi Lucheni pounced on her and plunged a sharpened file straight into her heart. Sisi died around an hour later in the Hotel Beau-Rivage. Even more than a century later, Elisabeth remains one of Europe's most fascinating and revered historical figures. The "Sisi" myth – her beauty, her lifestyle and her rebellious nature – lives on and continues to have a major influence on pop culture today.
A life full of contradictions

Elisabeth Amalie Eugenie von Wittelsbach, Duchess of Bavaria, was born in Munich in 1837. The daughter of Duke Max Joseph of Bavaria (1808-1888) and Princess Ludovika (1808-1892) grew up with many siblings in Possenhofen on Lake Starnberg. At the age of 16, "Sisi" married Emperor Franz Joseph I of Austria-Hungary (1830-1916) and moved to the Viennese court. She was considered one of the most beautiful women of her time and set fashion and beauty trends that still inspire admiration today.
However, Elisabeth's life was not only characterized by glamour. She never really felt comfortable in the strict, ceremonial world of the Habsburg Empire. She longed for the freedom she had enjoyed as a child. Sisi, as she was called by her siblings, never came to terms with her role as monarch and the responsibilities that came with it. She often escaped court life and went on long journeys to Madeira, England or Hungary. She felt most comfortable far away from the Vienna Hofburg. Extended stays are also recorded on her favorite island, Corfu, where she had a Pompeian palace called Achilleion built.
The Empress's life was also marked by personal tragedies: her first daughter, Sophie (1855-1857), died at the age of two while traveling through Hungary. Her son Rudolf, born in 1859, took his own life in 1889. From this point on, Elisabeth only wore black.
Not just in history books: the "Sisi" myth remains

The "Sisi" myth still exerts a lasting fascination today. Even non-fans know the paintings and photos of Empress Elisabeth – such as the portrait by Franz Xaver Winterhalter (1805-1873) from 1965, which shows her with her famous star hair ornament. Furthermore, her unconventional behavior, eccentric habits, and escape from the duties of an empress are in some ways an early example of the modern idea of ​​female emancipation. The Empress also followed a trend that is popular today – she was tattooed: in a harbor bar she had an anchor stabbed on her shoulder and an eagle was emblazoned on her rump.
Empress Elisabeth's popularity is reflected in numerous books, films, musicals and the tourism industry. The castles where she lived are admired every year by thousands of visitors from all over the world who want to learn more about the life and legend of the rebellious empress.
Numerous films, especially the "Sissi" film trilogy by the Austrian director Ernst Marischka (1893-1963) from the 1950s and 1960s, which showed Romy Schneider (1938-1982) in the role of the Empress, still demonstrate Sisi's iconic status today . The same applies to newer productions. In 2021, RTL dedicated the series "Sisi" to her with Dominique Devenport (27) in the title role. In the same year, Netflix shot the series "The Empress" with Devrim Lingnau (24) as Sisi.
Source: Stern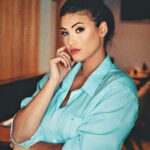 I am an author and journalist who has worked in the entertainment industry for over a decade. I currently work as a news editor at a major news website, and my focus is on covering the latest trends in entertainment. I also write occasional pieces for other outlets, and have authored two books about the entertainment industry.