Prince Harry has said goodbye to the royal family business and built something of his own: the Invictus Games, which he founded. He is admired here – even if not exactly as a top scorer.
Prince Harry may have hopelessly fallen out with his family and may be at the bottom of the British population – but in the Invictus Games community he created himself, people are hanging on his every word. The Afghanistan veteran and British Air Force helicopter pilot hits exactly the right note with the soldiers.
"Look at your uniform," said the 38-year-old in his welcome speech to 20,000 people in the Merkur Spiel-Arena in Düsseldorf on Saturday evening. "It may no longer be a camouflage suit, but instead a combination of bright colors, but you have a flag on your shoulder or your chest again. You and your families – you are part of a team again."
Psychological problems after deployment to the front
Many professional soldiers return from war missions seriously injured or with post-traumatic stress disorders. Harry himself also struggled with psychological problems after his deployment to the front. The second-born son of King Charles and Princess Diana was stationed twice in Afghanistan between 2007 and 2013 and says he killed 25 people in combat there.
With the Invictus Games, Harry has created something that means a lot to war-disabled soldiers and, more recently, police officers and firefighters. During the opening ceremony, the energy emanating from this event can be clearly felt. More than 500 participants from 21 countries compete in ten disciplines during the festival. On the one hand, it has something of a big sports tournament: There are the different fan groups, for example the Dutch in their Orange shirts and the French with their tricolors. But medals and winners' podiums are unimportant here. It's about finding your way back to life through sport. It's about the feeling of togetherness.
When the Ukrainian athletes take the stage, no one in the 20,000 spectators can stay in their seats. Standing ovation. "We must never stop supporting Ukraine in this war, however long it lasts," says Federal Defense Minister Boris Pistorius (SPD) in a thunderous voice. Even Chancellor Olaf Scholz (SPD) allows himself a little pathos in his video message and mentions the "Ukrainian brothers and sisters".
Harry: "I'm from Düsseldorf."
Last year the Invictus Games took place in The Hague – in reference to this, Harry jokes that they just switched from "stroopwafels" – Dutch syrup waffles – to "schnitzels". "Good evening everyone and welcome to the Invictus Games 2023 here in Düsseldorf," he says in German. "I am a Düsseldorfer!"
While the people in the hall are cheering him on, Harry was not able to meet all expectations at Düsseldorf City Hall. The more than 100 fans who lined up at the barrier didn't get a handshake, an autograph or a selfie. Instead, "His Harryness" quickly headed towards the blue front door. Maybe also because he doesn't want to unnecessarily put himself in the foreground here. The stage will belong to the Invictus participants.
A small counter-demonstration takes place within sight of the royal reception. "No advertising for dying," it says. The accusation: The Invictus Games normalize war, the Bundeswehr puts on an advertising show. Pistorius cannot understand the criticism: This is definitely not about heroizing soldiering, he says. Rather, the Invictus Games will make it clear to everyone what horrors war entails.
No hero when shooting on the goal wall
After the opening of the games, Harry and Pistorius go to the ZDF broadcast center in Mainz to the "Current Sports Studio". Here two Invictus participants sit between them: Angelo Anderson from the USA and Jens Niemeyer from Germany. Niemeyer, visibly moved, tells how he suffered from severe post-traumatic stress disorder after a deployment to Afghanistan – and with the help of sport and the Invictus Games, he slowly got over it.
Harry seems like a person who has found his life's purpose and is completely committed to it. The War of the Roses against one's own family, his constant media accusations, the rift in screen format – all of that is far away. Harry is simply a popular figure here. Especially when he missed six times while shooting at the goal wall and thus failed miserably against the 63-year-old Pistorius, who easily pushed in two balls. The prince pays tribute to the top scorer king with a laugh: "Is that the new football coach for Germany? You can still do that on the side! The man for all occasions, so to speak."
For a week, Düsseldorf will not be hosting a carnival prince for a change, but rather a real royal son – albeit one who has left the royal family business. Instead, he built something of his own. On Friday he even celebrates his 39th birthday on the Rhine. By then, it is said, his wife Meghan Markle will also be flying in from California. And then, who knows, maybe there will be autographs after all.
Source: Stern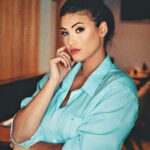 I am an author and journalist who has worked in the entertainment industry for over a decade. I currently work as a news editor at a major news website, and my focus is on covering the latest trends in entertainment. I also write occasional pieces for other outlets, and have authored two books about the entertainment industry.