Rudi Völler actually wanted to enjoy his retirement. Now he is back in the dugout as interim coach of the national team.
After the dismissal of Hansi Flick (58), the DFB is desperately looking for a successor for the vacant position as national coach. As an emergency solution, sports director Rudi Völler (63) was brought in to take over the position on an interim basis, at least for one game. In a press conference yesterday, Monday, he emphasized that this was a "one-off thing" for him. "I don't want to say that I had to be persuaded," says Völler, "but I don't like it."
The "eternal Rudi" just can't say no

One of the reasons why Völler allowed himself to be supported in this rescue operation is probably the fact that "the eternal Rudi" is known to have a hard time saying "no". According to reports, he was involuntarily promoted to his current position as sports director of the German Football Association in February of this year.
DFB Vice President Hans-Joachim Watzke (64) revealed at the time that there had been no major discussion about this personnel decision. "It wasn't a process at all," says Watzke, he simply looked around and then spontaneously said: "Rudi, that would be something for you!" Völler once again allowed himself to be broadened and succeeded long-time manager Oliver Bierhoff (55). Völler's embarrassed comment: "At first I didn't really want to do that…"
Actually officially retired since 2022

The man actually wanted to finally start his well-deserved retirement, just in case. After his contract as sports director at Bayer 04 Leverkusen expired in mid-2022, he was already looking forward to being able to play a quieter ball in the future.
After the national team's embarrassing preliminary round exit at the 2022 World Cup, he only took on a position in the "Task Force" set up by the DFB, which was supposed to advise the association in order to get the team fit for the upcoming home European Championships in 2024 close. In January 2023 he was finally elected to the position of sports director of the national team. He certainly wasn't thinking about another coaching position at that point.
Good-natured football savior in an emergency

Using Rudi Völler as a solution to acute football problems has now become something of a tradition. His first engagement with the DFB unintentionally lasted longer than planned. After the end of his active career in 1996, he initially served as sports director of Bayer 04 Leverkusen until 2000 and then actually aimed for retirement. But nothing came of it: After the European Championships in 2000, which were disappointing for Germany, he spontaneously stepped in as an interim successor to the previous DFB team boss Erich Ribbeck (86).
Daum's cocaine affair caused retirement plans to collapse

This commitment actually lasted for just one year until Christoph Daum (69) took over as national coach. However, since Daum famously stumbled over his cocaine affair, Völler stayed in his position and led the German national team to runner-up status at the 2002 World Cup in Japan and South Korea. In the fall of 2000, in parallel to his job as national coach, Völler even took on the role of interim coach at Bayer 04 Leverkusen for almost a month, as Daum was also out here due to a scandal.
The sports veteran, known by the nickname "Aunt Käthe", proved to be a savior in times of need again in 2004 when his former club AS Roma suddenly found itself without a coach. Völler jumped into the breach again, but threw in the towel in frustration after just 26 days.
New national coach urgently wanted

In addition to his duties as interim coach of the national team, Völler now also has the task of finding a new national coach as soon as possible. Yesterday, Monday, he commented generally on the requirements profile of this personnel position. The new coach would be tasked with realigning the team at short notice and preparing it for the "big European Championship tournament next year," "from which we all hope to provide positive impetus for German football and also for our entire country." In addition, it is about "raising the national team back to the level that we know and expect from it in the long term."
Rudi Völler's wife Sabrina (59) will be watching the current search for a viable national coach with excitement and impatience. After Rudi's official farewell in 2022, she was already looking forward to more relaxed times.
She formulated her wishes as follows: "That our lives will be a little more regulated and that we can plan private things on a Sunday without having to pay attention to the game plan. I don't know it any other way: if Bayer lost on Saturday, I knew I want Rudolf to go to the stadium early on Sunday to be there and to talk to the coach, for example."
However, it was already clear to her at that point: "He won't have a life without football. Football was always the most important thing after the health of our children."
Source: Stern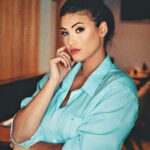 I am an author and journalist who has worked in the entertainment industry for over a decade. I currently work as a news editor at a major news website, and my focus is on covering the latest trends in entertainment. I also write occasional pieces for other outlets, and have authored two books about the entertainment industry.