Each September 13th is celebrated on International Chocolate Daya day in which the birth of two very inspiring people for lovers of music is honored. chocolate: Roald Dahl (1916), British writer and author of Charlie and the Factory Chocolates; and Milton Hersheythe American founder of The Hershey Chocolate Company. In this framework, we bring you a list of places in CABA that will offer most original chocolate desserts.
Chocolate Day: places where you can try the most original desserts
Virgin
At Virgen, a modern restaurant & bar in San Telmo, chef Manu Malacarne dazzles with typical Mexican dishes in creative signature versions. In the sweet section of the menu, an airy 70% cocoa semi-sweet chocolate mousse stands out, served with a puffed corn tortilla that adds crunch to each bite. The dessert is completed with flakes of sea salt, a quenelle of avocado ice cream, a homemade jalapeño jam and fresh strawberries. An interesting game of flavors that takes you on a journey through Mayan lands.
Address: Av. Caseros 467, San Telmo.
La Pinocha Chocolates
On International Chocolate Day, La Pinocha Chocolates offers everything from the most traditional chocolates to the most spicy and bitter ones with high percentages of cocoa for those looking for new experiences. Among the main trends, the most chosen variety is the white millefeuille, the marroc, 80% cocoa, chocolate with almond and the traditional bar, with an imprint that demonstrates its homemade preparation, as if made by hand. At the same time, it has more than 60 options such as squares, alfajores, pinitos and tablets, among others.
Address: It has branches in Belgrano, Villa Urquiza, Colegiales, Caballito, Palermo, Villa del Parque, Cañitas, Recoleta and Monte Castro.
Maradona (10)
Chinatown has just celebrated the opening of Maradona (10), a new restaurant in tribute to the great Argentine soccer star, whose menu covers different moments and cities in Diego's life. For chocolate lovers, chef Ezequiel Benítez recommends the Battle of the Bernabéu, a dessert that combines a dark chocolate sablée dough and a 70% chocolate cream with ristretto coffee, orange peel, threads of pure honey and candied oranges.
Address: Av. Juramento 1700, Belgrano.
so much
Tanta is one of the restaurants of the famous Peruvian chef Gastón Acurio, who offers dishes with a homely imprint where typical Creole recipes and ingredients from other latitudes are fused. Its original dessert menu includes options such as the Chocomaracuyá Cup, with an infallible duo of flavors. It has a first layer of natural raspberry compote followed by a creamy passion fruit & Amaretto mousse, a layer of crunchy chocolate and a last layer of artisanal semi-sweet chocolate mousse.
Address: Esmeralda 938, Retiro.
The Cabin
The emblematic La Cabaña grill delights with cuts of Angus beef, pieces of Wagyu and dry aged meats that can be crowned with classic desserts from Argentine cuisine plus some signature options. Among the latter, a good alternative for chocolate lovers is the Capricho de Tres Chocolates. It is a kind of tasting that combines a quenelle of milk chocolate and hazelnut liqueur, another quenelle of white chocolate and orange, mocha cream, bruleated bright oranges and pieces of Nemesis cake, which is a super-moist 70% cocoa chocolate cake. , all bathed with an orange Worcestershire sauce.
Address: Alicia Moreau de Justo 580, Puerto Madero.
BAGA
Located in the Hipódromo Argentino in Palermo, the BAGA restaurant invites you to experience a different night, in an elegant atmosphere with high-flying Mediterranean cuisine, signature cocktails and a unique party in Buenos Aires. In the dessert section, one that is as chocolatey as it is delicate stands out: the biscuit à l'orange et crémeux de chocolat, a moist orange sponge cake on which a creamy chocolate with a silky texture and intense flavor rests. It is finished with a few drops of yogurt soup and white chocolate around it, to add freshness to the palate.
Address: Av. del Libertador 4101, Palermo.
Iron
The modern Hierro grill offers grilled meats, creative vegetable-based garnishes and artisanal dishes that are worth trying. The sweet finale is with known flavors, but with a twist, as happens in the Chocolate Textures dessert. This tribute to the tropical fruit has a base with pieces of soft chocolate meringue and a generous portion of 70% cocoa Belgian chocolate mousse, topped with orange zest, a pure cocoa crunch and slabs of semi-sweet chocolate with sea salt. The portion is large, so it is recommended to share between two people.
Addresses: Boulevard del Mirador 220, Nordelta and Costa Rica 5602, Palermo.
January
On the Buenos Aires waterfront is Enero, a restaurant with an attractive jungle setting and a tasty offering of Italian-Argentine cuisine. When it comes to sweets, a tasty, light and fresh dessert draws attention that has a mix of red fruits with small quenelles of a pistachio cream and crunchy pistachio praline, all crowned with a dark chocolate mousse on the side of the dish. To pair with an interesting selection of wines or a delicious coffee.
Address: Av. Rafael Obligado 7180, Costanera.
Truffle
Inside the elegant KOS Pilar Hotel, Trufa Restaurant offers seasonal dishes with traditional flavors and touches of sophistication. Among its desserts, the standout is an airy and soft portion of 86% dark chocolate mousse, served inside a profiterole with crunchy sable, spices and toffee sauce. A dessert that discovers a world of unique textures in every bite.
Address: R. Caamaño 1370, Pilar.
Let it V
Let it V delights with plant-based and gluten-free cuisine. In its different branches you can enjoy breakfast and snacks with specialty coffee, cosmopolitan dishes and sushi pieces, made with mushrooms and vegetables. The menu at the Palermo and Devoto locations feature an original creamy chocolate and orange dessert made from tofu, which gives it a pleasant consistency. It is served in the form of quenelles with a touch of olive oil, fresh red fruits and an almond and cocoa crumble.
Addresses: Costa Rica 5865, Palermo; Mercedes 3987, Villa Devoto and more branches.
SushiClub
To finish the tour of its fusion sushi pieces and its Asian-leaning dishes, SushiClub offers desserts such as the Chocolate Lust, a glass with a base of chantilly cream, an abundant amount of dark chocolate ganache, very dense and creamy, more cream on top, strawberry slices, a homemade cubanito and a chocolate tile. It arrives at the table accompanied by chocolate curls with sea salt, a caramelized puffed rice and more strawberries, to be added and mixed to taste.
Address: Alicia Moreau de Justo 286, Puerto Madero and more branches.
Source: Ambito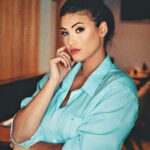 I am an author and journalist who has worked in the entertainment industry for over a decade. I currently work as a news editor at a major news website, and my focus is on covering the latest trends in entertainment. I also write occasional pieces for other outlets, and have authored two books about the entertainment industry.