There are perhaps more dazzling monarchs. But hardly anyone has been head of state for as long as Sweden's King Carl XVI. Gustaf. There is now reason to celebrate.
He developed from an awkward young king into a universally respected monarch: Sweden's King Carl XVI. Gustaf has had a long journey as regent. The 77-year-old had to grow up without a father, find his way largely alone in the royal world and make his way to the throne alone.
Against all odds, he established himself as a valued head of state, found his true love in Germany and did not stumble over a major scandal. Now Carl Gustaf is celebrating his 50th anniversary on the throne – and his people can join in the celebration.
This Friday (September 15th) it will be exactly half a century since Carl Gustaf died after the death of his grandfather Gustav VI. Adolf (1882-1973) became King of Sweden. The important anniversary of the throne is now being celebrated in Stockholm with an anniversary weekend, which begins for the royal family on Friday with a service in the castle church, before the king attends the changing of the guard in front of the castle and is then ceremoniously sung.
Ride in a carriage through Stockholm
There will be a celebratory anniversary banquet in the evening before the royal couple travels through Stockholm in a carriage on Saturday. On Saturday evening there will be a concert in front of the castle, which Swedes can watch free of charge on site or directly on television. Several national music stars are taking part, including the two-time ESC winner Loreen ("Euphoria", "Tattoo").
All of this celebrates a man who had to warm up to his role at the head of the Scandinavian country, just as the people had to warm up to him. "The Swedes have grown fond of him," says filmmaker Julia Melchior, who recently released the film "My Father, the King – Carl Gustaf and Victoria of Sweden" on ZDF. This has to do with the length of his reign, but also with the experience and self-confidence that Carl Gustaf has gained over the decades. "As a result, he is much more comfortable with his role as father of the country today than he used to be," says Melchior.
In fact, Carl Gustaf needed some time to find his way around the royal realm. This was also because he had to grow up without a father because he died in a plane crash in Copenhagen in 1947. Carl Gustaf was only nine months old at the time – and suddenly he was directly behind his grandfather in the line of succession to the throne. When he died in 1973, Carl Gustaf inherited the throne at the age of just 27. He was thrown into the royal office more or less unprepared – at a time when Sweden's monarchy was in deep crisis.
Meeting Silvia Sommerlath in 1972
As a result of a constitutional reform, the king lost almost all political co-determination rights and voices became louder that Sweden no longer needed a king. Carl Gustaf was also struggling with his position during this time. He was unmarried, seemed awkward and not particularly happy with his new role. But an encounter during the 1972 Olympics in Munich turned out to be an absolute stroke of luck for him. There he met a woman whose charm not only thrilled the Swedish king, but from then on also the Swedish people: Silvia Sommerlath, who came from Heidelberg and who became Queen Silvia at her wedding in 1976.
"The royal family has taken on a completely different look thanks to Silvia," says royal family expert Melchior. The Swedish court has developed into a real family monarchy, with Carl Gustaf at the head, the majestic Silvia (79) at his side and the children Crown Princess Victoria (46), Prince Carl Philip (44) and Princess Madeleine (41) . This family idyll is completed by eight royal grandchildren.
Today Carl Gustaf is the longest-reigning monarch in Swedish history and one of the longest-serving officials in the world. With the help of the "German" Queen Silvia and his family, but also thanks to his personal development, he has earned the respect of the Swedes and ensured that the royal family is much more popular today than it was in the 1970s. The family also survived a scandal surrounding the king's affair with a singer and rumored visits to the red light district in 2010 by sticking together.
Traditions and modernity
Carl Gustaf always remained true to his chosen motto "For Sweden – With the times" by preserving traditions while also giving the farm more modernity. An important decision in 2019 was, among other things, to slim down the royal family and free the children of Carl Philip and Madeleine from royal duties. "That was a contemporary step," says Melchior – and true to his motto of moving with the times.
He has long served as a fatherly role model for his daughter Victoria. The relationship between the king and the crown princess is described as loving and warm, and if her father can still occasionally seem a bit stiff and awkward today, his daughter makes up for it with her lightness and smile. She is already mastering the balancing act between tradition and modernity with flying colors.
Victoria has long since grown into her role as heir to the throne, so Carl Gustaf can be sure that the royal family will continue to be in good hands in the future. Abdicating is out of the question for him – he has long since seen his royal office, which he initially disliked, as his life's work.
Source: Stern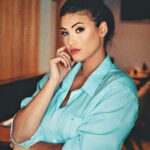 I am an author and journalist who has worked in the entertainment industry for over a decade. I currently work as a news editor at a major news website, and my focus is on covering the latest trends in entertainment. I also write occasional pieces for other outlets, and have authored two books about the entertainment industry.