Ex-"DSDS" candidate and pop singer Mike Leon Grosch raves in an interview about a duet with his wife and criticizes casting shows.
Mike Leon Grosch (46) will release his new album "Tief" on September 15th. In an interview with the news agency spot on news, the singer explains why he feels particularly comfortable with pop songs, what the title of his album means and how a duet with his wife Daniela spontaneously came about. The "DSDS" finalist from 2006 also explains why he doesn't think much of casting shows these days.
With the title of the album "Tief" you are referring to the depth that Schlager can have. What prejudices have you encountered towards pop music?

Mike Leon Grosch: Schlager is often laughed at and perceived as lacking depth. There are certainly many beautiful songs that serve pure entertainment. In pop music, however, it is no different. Not every song hits the nerves in a meaningful way. But Schlager can do so much more. This music has touched me since my childhood, when my mom listened to records by Roy Black and Peter Maffay over and over again.
Why do you feel particularly comfortable in this genre and do you have any role models in pop music?

Grosch: For me it is the only genre in German-speaking music where people are really tolerant of every feeling. I experienced the hit industry as a scene full of open arms and little resentment. I am always happy when I see my friendly colleagues backstage again and we give a touching concert together. I have many role models, although not musical ones. Every biography is unique and can never be imitated.
On the other hand, "deep" also means that you reveal yourself to your fans in all depth on the album. What feelings did you confront on the album? What do you want to give your fans?

Grosch: These are so damn hard times out there. The world doesn't seem the same anymore and it looks like we all have to choose between black or white. The gray areas seem to disappear. That makes me very sad. People build up their protective armor and increasingly hide behind their walls of fear and prejudice. I express my emotions freely and want to show that you can be damn cool if you live an emotional and empathetic life.
Almost 20 years have passed since your participation in "DSDS". Do you often think back to that time, what feelings do you have?

Grosch: I am a very dissociative person. That means I remember every day of that time, but it no longer affects me. But maybe that's completely normal. How well can you remember a day that was 19 years ago? I have fond and grateful memories of this time, but it doesn't ring around in my head at all anymore.
What do you think about the fact that the show will continue in 2024 even though the end was already announced?

Grosch: There are some programs that seem to be completely out of date. I also include "Germany's Next Top Model", "Bauer sucht Frau" and "DSDS". We all laughed our heads off at cynical and supposedly funny comments from jury members. But how funny is it today when you tell an 18-year-old girl: "You can't sing, but you look hot, that's why you're ahead…" I'm out of there.
In 2019 you also took part in "Supertalent". What do you think of casting shows today?

Grosch: I think Germany has cast itself out. We have already found the best chef, the best gardener and the best business founder. I think it's time to rethink television and offer people a lot more serious infotainment than just continuing to portray ourselves.
In 2016 you suffered two heart attacks. How is your health today, are there still any after-effects?

Grosch: I survived the heart attacks well. I'm doing very well today.
On the album there is the track "You are everything", which you sing together with your wife. How did the idea come about and how does working together work for you?

Grosch: That was pure coincidence. I first sang the song alone. Then the unfinished demo played here at home for several days and my wife always sang the title along loudly. That sounded so cheeky and free. She had to sing that in the studio, I thought. It sounded so good in the studio that the record company chose this song as the strongest song.
They have been in a relationship since 2018 and married since 2021. What is the secret of your relationship/marriage, how do you deal with difficult phases?

Grosch: Love is work. Every day. Anyone who believes that love is always romantic and beautiful also thinks that the sun always shines in Spain. Love must always be honest, otherwise you have no chance. It's about truth, every day.
What do you value most about your wife, why is she the perfect partner at your side?

Grosch: My wife is like a magnet. She has such a strong attraction for me, it's crazy. She is my hero, the most honest person I have ever met. She is my idol.
They performed the song together for the first time in late August. How does it feel to be on stage together? Are you planning further appearances together?

Grosch: Daniela will be happy when the hustle and bustle surrounding her will soon be over. Every time we leave the stage for our song together, she always says with a smile: "How can you enjoy something like that?" She is so excited and unfortunately she can't enjoy it that much. But I'm pretty sure that wasn't the last song we recorded together.
What life goals do you want to pursue in the coming years?

Grosch: It should go even deeper. I used to always look for my goals externally. I would have given you material answers, i.e. things that you can buy. Today my big heartfelt goals lie deep within me. I would like to get to know myself even better, to know why I do the things I do and what was the origin of why I am the way I am today. My goal in life is silence and unconditional love.
Source: Stern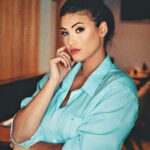 I am an author and journalist who has worked in the entertainment industry for over a decade. I currently work as a news editor at a major news website, and my focus is on covering the latest trends in entertainment. I also write occasional pieces for other outlets, and have authored two books about the entertainment industry.