Klaas Heufer-Umlauf is celebrating his 40th birthday. Five exciting facts about the all-rounder.
On September 22nd, one of Germany's most famous presenters will celebrate his 40th birthday. Klaas Heufer-Umlauf is an integral part of the ProSieben program and alongside Joko Winterscheidt (44). In addition to his show appearances, the entertainer has also achieved success in the acting business and music. However, going into show business wasn't the TV star's first career choice.
Trained hairdresser

Klaas Heufer-Umlauf, born in Oldenburg in 1983, explained in an interview with spot on news in 2019 when asked whether he could imagine a "normal" job for himself: "I find it difficult to do real work now, but I'm more skilled I was a hairdresser and stood at the chair for three years. Then I did my community service as a nurse, which was strenuous, but also nice. I could definitely imagine doing something like that again." He ultimately began his television career on the music channel Viva, where he hosted shows such as "Viva Live!" or "Klaas' weekly show" (until 2009).
He then moved to MTV, where he teamed up with Winterscheidt as a duo for the first time and they hosted "MTV Home" together. This was followed by the joint shows "neoParadise" on ZDFneo (2011 to 2013) and "Circus HalliGalli" (2013-2017) on ProSieben. The latter station has become the duo's regular station, and to this day they are successfully running formats such as "The Duel Around the World" or "Joko & Klaas versus ProSieben".
Acting role with special features

But Heufer-Umlauf wasn't just drawn to moderation; he was already acting as a teenager and was later seen in several plays at the Oldenburg State Theater. As a child he had the rough idea "that I would do television or be on a stage," he said. "As an actor, not as a presenter, that wasn't a tangible career for me. It wasn't until I saw Viva in the mid-90s that I thought: I can sit next to the fax machine at Mola." In the years that followed, he simply pursued both jobs. In 2004 he had a short appearance in the soap "Verbotene Liebe" and in 2005 in the RTL comedy series "Alle Liebe Jimmy".
The 40-year-old was also able to land film roles in "Rubbeldiekatz" (2011), "Großstadtklein" (2013) and "Die Goldfische" (2019). In 2019 he also launched his own comedy series as a producer and leading actor: in "Check Check" he played Jan, an employee at the security check in the provincial airport in his hometown. His partner in real life, Doris Golpashin (43), played Jan's childhood sweetheart Sabine. "That was nice, we don't do that every day," explained Heufer-Umlauf in an interview with spot on news at the start of the series. "Of course we know each other very well and that helps when you don't have to adjust to someone you don't know. She's also a fantastic actress, which also helps me when I'm filming." Most recently, he took on a role in the ZDF miniseries "Der Schwarm" in spring 2023.
Music with melancholy

Presentation, acting – and music! Together with Mark Tavassol (49), former guitarist and bassist of the band Wir sind Helden, Heufer-Umlauf founded the band Gloria and released the album of the same name in 2013. This was followed by the records "Geister" (2015) and "Da" (2017). Heufer-Umlauf explained the soulful music in 2013: "For me, melancholy is a completely natural feeling, so that I can also feel the opposite. Especially in television, I know a few people who are always happy and funny and don't have an off switch. Before I'm just as afraid of them as I am of those who are just in a bad mood. Nothing works without a counterbalance."
He explained in 2015 that it wasn't a bad thing for him that his celebrity made people listen more closely and look for the fly in the ointment. "That's normal psychology. We also have the advantage that people will at least listen to our album in peace. And if at the end they say 'that's music' – then everything's okay."
Extraordinary honor

The German Comedy Award, the 1Live Krone, several German television awards and Grimme awards – Klaas Heufer-Umlauf has already received several awards for his programs. But the most extraordinary honor was bestowed on him by Joko Winterscheidt. As part of their show "Joko & Klaas versus ProSieben" in 2021, he was surprised at Berlin Central Station with more than just a red carpet, a flash of flashes, an orchestra and some fans and friends. Seated on a throne, he listened to a speech by Winterscheidt, who explained that he wanted to say thank you after 15 years together.
"What do you give a man who already has everything?" joked the moderator. He then presented his solution: to drum rolls, he unveiled a larger-than-life statue that would represent Heufer-Umlauf. "It is a monument, a place of pilgrimage, an image of yourself," explained Winterscheidt. The "Klaas statue," which was created together with an artist collective, came to stay for a few months. The mayor of Oldenburg, Jürgen Krogmann (59), insisted on giving a laudatory speech to "the city's offspring" and handing over a gingerbread heart. He praised the presenter, who is characterized by "witty, modesty and social commitment". "I'm not even dead yet, I haven't done anything for this country yet," was Heufer-Umlauf's modest comment on the campaign.
Apologies after fake allegations

Klaas Heufer-Umlauf hasn't had to deal with much negative headlines or events in his show business career so far. At the beginning of 2020, the NDR program "STRG_F" reported on alleged inconsistencies in the programs "The Duel Around the World" and Heufer-Umlauf's program "Late Night Berlin". Among other things, a clip in which Heufer-Umlauf and his team showed an allegedly real bicycle theft in which a man was caught red-handed was suspected of being fake. The thief is said to be an amateur actor. Heufer-Umlauf then explained on his show that he could understand anyone "who was disappointed by this. I would like to apologize for that seriously and without any irony. That was without any ifs and buts a mistake and will not happen again." The mistakes that were made were not made out of "cynicism, contempt for the audience or laziness." "There were individual cases where we didn't want to accept that reality was less exciting than what we like to see on the show stage."
The incident did not cause any lasting damage to the presenter and so fans and viewers can certainly look forward to many more TV moments with him. Maybe the all-rounder, who also has a podcast with "Baywatch Berlin", will also try out completely new areas? "I basically always trust myself to do anything," explained Heufer-Umlauf in an interview with spot on news in 2017. "But that doesn't mean that everything will always be okay. In a certain way, that's part of my understanding of my job. That I first stand up and say: 'I can do everything!' – that's my claim. But reality shows me limits. People let me do things or not. But my point of view is and remains, no matter what it's about: 'Of course I can do it!'"
Source: Stern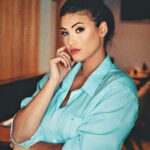 I am an author and journalist who has worked in the entertainment industry for over a decade. I currently work as a news editor at a major news website, and my focus is on covering the latest trends in entertainment. I also write occasional pieces for other outlets, and have authored two books about the entertainment industry.