(By Sergio Arboleya) The Salta folk group Ahyre has just released its powerful second album "Eco", a compendium of 12 songs of its own that, according to Juan José "Colo" Vasconcellos, one of its four members, "has to do with that telluric view of folklore" which they update "from an environmentalist perspective."
"Almost without realizing it, we came across the concept of 'Eco' from becoming aware of the importance of nature, taking into account the value of water and all other natural resources, mostly non-renewable, and From our trench of music and art we intend to contribute a grain of sand in that sense," Vasconcellos says during an interview with Télam.
The "Colo" has shared Ahyre since 2019 with Sebastián Giménez, Hernando Mónico and Federico Maldonado, also adding the contribution of percussionist Guido Bertini.
In the middle of some Buenos Aires presentations, the artists from Salta stopped by a hotel in downtown Buenos Aires to demonstrate the new "Echo" they give to their music.
The gesture of sound renewal, the elegant instrumental treatment and a lyric that is as careful as it is testimonial exhibit the continuous growth of a proposal that was born with that desire not to be determined by the intense previous history shared by three of its members (Giménez, Vasconcellos and Mónico ), with 15 years of experience as part of Los Huayra.
With the addition of Maldonado's contribution (coming from Los 4 de Salta), the group will begin playing "Eco" live on October 13 at the Provincial Cultural Center of Santa Fe, and after performing in the Uruguayan cities of Montevideo and Durazno, on Friday the 27th there will be a formal presentation at Ciudad Cultural Konex in Buenos Aires.
The tour will continue on November 9 at the Martín Fierro Cultural Center in Jujuy, one night later at the Mercedes Sosa Theater in San Miguel de Tucumán; on the 16th it will arrive at the Catamarca Cinema Theater; On the 17th and 18th it will be played at the Juan Carlos Saravia Theater in Salta and on the 25th at the El Círculo Theater in Rosario.
The plaque, published last Thursday, brings together the themes "Eco", "Tree", "So Far", "Cusco", "Cómplices", "Río", "Our Flowers", "Ladran Sancho", "Los Días" , "Las ideas", "Silencio" and "S@y@" and adds the collaborations of Soledad Pastorutti, Abel Pintos, Nahuel Pennisi and Los Tekis.
Télam: Do the promoters of a new aesthetic for folklore that is popular and at the same time refined feel a little responsible?
Juan José Vasconcellos: I think it is good to be able to find the possibility that folklore can be provoked and generated both in a traditional way and in a more modernized way, but always having the same possibility that music from other genres has when it comes to the production. Also be able to understand that just as folklore artists from other countries, such as Rubén Blades, Lila Downs, Natalia Lafourcade or Carlos Vives, somehow achieved a universal projection of their genres, and it would be great if that could happen with Argentine folklore. , which has so much richness and edges. So it would be great if we could give it a twist to also be able to show it to the world in the best way without the need for "packaging" to distort it.
T: How does "Eco" broaden that channel?
JJV: "Eco" is, simply, the reflection in terms of reflection of what our entire path is, our entire history, our culture and our ideas. At some point we have found in this concept all the music that this new album has, with songs that at some point represent the root and also represent the destiny in all that root.
T: A path that is also expanding in Latin America…
JJV: We believe that the core concept of the album is given by the Andean worldview. On the other hand, there are the textures provided by the layers of Latin American instruments, both percussive and wind instruments, as well as string instruments, and all that adorned within our universe, which in some way has also begun to manifest itself from the first disk.
T: Additionally, several songs refer to elements of nature. Because?
JJV: Almost without realizing it we came across the "Eco" concept from an environmentalist perspective, and each song brought its color; For example, "Tree" sounded green to us, and we went behind that and in the chorus we say: "Today I come with those who sing/to save the earth/Today I come to leave seeds/of the tree of conscience", and it is a little by way of synthesis of what we expressed.
T: Taking note of another of the song titles, how does "The Ideas" appear, where it talks about a matter linked to thinking and thinking as action?
JJV: That song has been one of the banners of this album, because we wanted to reflect the proposal and the invitation to move from the place, to get out of that comfort where nothing moves and nothing is touched because we are used to things working that way. manner. But we believe that moving, even just a millimeter, somewhere, gives other sensations, generates other experiences and the song invites us to put ideas in motion and, with them, the body.
T: How did you manage to naturalize your own aesthetic discourse despite carrying the weight of 15 years as part of Los Huayra?
Sebastián Giménez: We are perhaps in another more serene moment in which life gave us the opportunity and we were able to take advantage of the freedom that Ahyre gives us after 15 years of paths traveled from a format that in Los Huayra already had as an order that we were able to break .
JJV: It is also true that with Los Huayra we started when we were 19 or 20 years old and we forged another head and we took the license that few have to shuffle and give again, from a new project that capitalized on all the learning of those 15 years to design something more tailored to what we feel at that moment.
Source: Ambito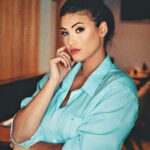 I am an author and journalist who has worked in the entertainment industry for over a decade. I currently work as a news editor at a major news website, and my focus is on covering the latest trends in entertainment. I also write occasional pieces for other outlets, and have authored two books about the entertainment industry.