70 years after its original publication, a reissue of "Nine Tales", JD Salinger's first book, was published in Spanish these days, the editing of which was supervised by his son Matt, who on tour in Spain to accompany the launch announced that He is advancing in the publication of an unpublished text by his father, which according to his estimates could reach publishers within a maximum period of two years.
American actor and producer, Matt Salinger is in charge, together with his father's widow, of managing his literary legacy. That task took him to Madrid this week to present a commemorative edition made by the Alianza publishing house of "Nine Tales" (1953). Salinger's son held a meeting with the press where he said that his father left a hidden work and that before dying he asked her to publish it, even with the "warts", the imperfections and notes in the margins. The author of "The Hidden Hunter" died in 2010 with those thousands of unpublished pages that could now see the light, at least that is what his son promises, who maintained that he is making progress in the work of transcribing that material. "I hope it's ready before I die," he joked. The executor also explained that these notes are complicated, notes by hand and typewritten, which is why he estimates "a year and a half or more to finish."
Although his published work is brief, Salinger never stopped writing during the 45 years of silence that followed his last published title. Only when documentary filmmakers Shane Salerno and David Shields released the diptych "Salinger" three years after his disappearance – an unauthorized biography in book and documentary format – did it become known that there was material from which his widow Colleen O'Neill and his son Matt would be executors. Not so her other daughter, Margaret Salinger, with whom she did not have a good relationship after she published "The Guardian of Dreams" in 2000, a harsh editorial portrait in which she drew her father as a selfish enlightened man dedicated to the work of she.
"A disgrace," Matt described the work of the duo Salerno and Shields, according to the newspaper El País. Harvey Weinstein, the producer, wanted to confront, he wanted to create a controversy. We all already know Weinstein," he said, referring to the well-known film producer convicted of several cases of sexual abuse. The authors of the work, he added, did not speak with the only two people who know the author's unpublished work, who are himself and the widow of his father. "And whoever they spoke to, he gave them incorrect information and they dedicated themselves to publishing it."
Salinger became one of the most intriguing literary legends, that of the writer who decided to renounce publication, fame, interviews and public appearances, and seclude himself for the rest of his life. At a press conference, Matt said that his father retired from literary life because he loved silence and wanted to dedicate himself to his family. However, there was never silence with him, a privileged witness of his writing rituals.
According to Matt, the Salinger that the reader will find in his unpublished works is the same as the rest of his work, since "he always continued in the line of searching for the values ​​of art, beauty, kindness, with a particular sense of humor." , although he warned that "there are going to be surprises. But nobody expects a 'best seller' to lie on the beach." He also recalled how his participation in the Second World War and the liberation of Nazi concentration camps influenced his writing and how it made him value even more what he valued before, beauty and love and the ephemerality of nature. Matt also referred to the controversy that caused John Lennon's murderer to carry a copy of his father's most famous novel at the time of the crime: he said that he could not feel guilty for what a lunatic does.
Source: Ambito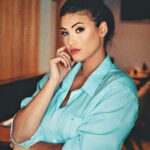 I am an author and journalist who has worked in the entertainment industry for over a decade. I currently work as a news editor at a major news website, and my focus is on covering the latest trends in entertainment. I also write occasional pieces for other outlets, and have authored two books about the entertainment industry.