Cher has celebrated numerous hits in her long career. The singer herself doesn't think her voice is that special…
Cher (77) is not a fan of herself. that she doesn't particularly like her own voice. The 77-year-old talked about her new album "Christmas" and also explained that she didn't like all of her previous records.
She made so many albums, and some of them that she thought were good were "not hits." "And others that I wasn't so thrilled about were," Cher said. Her career had ups and downs in terms of success.
Cher likes "Christmas".

According to the singer, she liked her new album: "I'm not a Cher fan, but I enjoyed doing it." When she hears "Christmas," "I think it's worked out." Cher then explained what she doesn't like about some of her previous works. "I just never liked my voice that much," she told Paper. "If I had a choice, I would probably have another, but I didn't have a choice. I have my mother's vote."
She explained that she finds the way she sings "strange." "It doesn't sound like a man, it doesn't sound like a woman. I'm kind of somewhere in between. I have this weird style," Cher said. "I do what you do when you can't hold a note: I don't stress my Rs. I guess some consonants are hard to sing, so I just have to leave them open."
The millions of Cher fans worldwide probably don't agree with the singer in her judgment of herself. Over the course of her career, she has had numerous hits in the charts thanks to her voice. Still, Cher says of her voice: "I never really liked it. I mean, people seem to like it, and I'm over the moon, but I wouldn't have chosen it," Cher said. "I liked it on my mother and it's definitely my mother's voice. My mother's voice is softer, mine is more edgy – different but the same, but I don't think I would have chosen it."
Festive duets with Michael Bublé and Stevie Wonder

"Christmas", the pop icon's first Christmas album, contains well-known Christmas classics and four original compositions. For her musical Christmas party, Cher brought various high-profile guests such as Michael Bublé (48), Stevie Wonder (73) and Cyndi Lauper (70) into the studio.
A duet of the classic "What Christmas Means To Me" with Stevie Wonder was described as a special highlight. The singer's statement says: "Every time I hear this harmonica, I'm a teenager again. Recording this song with Stevie… it's a personal dream come true for me."
Source: Stern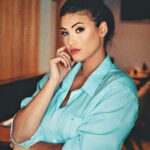 I am an author and journalist who has worked in the entertainment industry for over a decade. I currently work as a news editor at a major news website, and my focus is on covering the latest trends in entertainment. I also write occasional pieces for other outlets, and have authored two books about the entertainment industry.