He is the pop voice of Italy: Eros Ramazzotti is one of the most famous musicians in the country. Now he is 60.
He has love in his name – and it determines his entire life: Eros Ramazzotti made a career as a cuddly singer, his hits about women and big feelings made him known worldwide. The Roman native, who celebrates his 60th birthday today (October 28th), is still considered one of the best-known singers from his native Italy. But love issues don't just play a big role for him professionally. He also always causes a stir with his private life.
He has been a grandfather since March

Ramazzotti has probably already received the best presents for his big birthday: privately and professionally, he can look back on a fulfilling year of life. Daughter Aurora (26) made him a grandfather for the first time with little Cesare in March. With Dalila Gelsomino (34), he has a new partner at his side after two failed marriages. And from September to May he was on a big "Battito Infinito" world tour. He played 86 concerts around the globe in 35 countries.
"A unique experience" that deeply impressed the Italian, even though he had already seen and experienced a lot in his 40 years of career. "A year of touring around the world. Something that makes you grow, improves you, makes you aware of what's happening beyond your expectations," and was thoughtful. "We have seen almost everything and how the world has changed after Covid and the war, which unfortunately is still ongoing." The musician is convinced and appeals: "Nature is rebelling against the carelessness of us humans. We must remember that this planet is not ours, we have taken it and used it as we please." He believes that people urgently need to change: "Respect, care and love for animals, nature, women and above all for ourselves, because everything starts with us."
The epitome of Italian music

He himself has gotten a lot out of his life so far: the career he dreamed of as a small boy in the poor Roman suburb of Cinecittá has come true. He single-mindedly sang his way from music competition to music competition, landed his first record deal and released his first song "Ad un amico" in 1982. His breakthrough came in 1984 when he won first place in the newcomer category of the Sanremo music festival, which was very popular in Italy.
The rest is history: his music – from ballads to rock – went around the world. In the 1990s he was virtually the epitome of Italian music in this country. The lines of his hits became anchored in many German minds. But he doesn't just have many fans in Germany, Switzerland and Austria, Eros Ramazzotti is also popular in Spanish-speaking countries. That's why all of his albums are released in a Spanish version. At live concerts, however, he sometimes mixes up the Spanish words, the singer admitted. The fact that he appears so approachable and fallible is probably one of the secrets of his success. Another clever move: He repeatedly teamed up with international artists, and the joint productions gained a lot of attention. He worked with, among others, Cher (77), Anastacia (55), Helene Fischer (39) and Joe Cocker (1944-2014).
Younger partners

But not only his music, his private life was also often in focus. In 1996, Ramazzotti met the Swiss presenter Michelle Hunziker (46). The couple made headlines with their age difference – he was 33 at the time, she was just 19 – and their instant love. Because their daughter Aurora was born the same year they met. The singer and the presenter married in April 1998. But just four years later, Italy's dazzling glamor couple separated again. Two of Ramazzotti's best-known songs have survived the failed marriage: "Più bella cosa", which he wrote for Hunziker, and "L'aurora" for his daughter. After difficult years of separation, the former couple has managed to get closer again. The relationship between the two is now considered good – and so they were able to proudly beam into the camera together with their first grandson Cesare.
After the marriage ended, the singer soon found himself in the headlines again because he had a very young woman by his side again. In the year of Hunziker's official divorce – 2009 – he presented actress Marica Pellegrinelli (35), 25 years his junior, as his new girlfriend. The couple, who married in 2014, had two children. But after ten years of relationship, this great love was over again: in July 2019 they announced their separation. Four years later, he's now dating Dalila Gelsomino for the whole world to see. She accompanied him on his tour: "I love you".
The next decade of his life could hardly get off to a better start for the musician. A few weeks ago, Italian media even speculated about a fourth child for Eros Ramazzotti. Whether that will actually happen remains to be seen. In any case, he doesn't seem to have a problem with the future. On his 50th birthday he said: "I accept getting older calmly and calmly. When I look back, I see that I have achieved a lot, I'm still here – you really can't be happier."
Source: Stern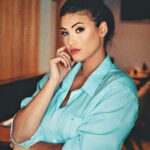 I am an author and journalist who has worked in the entertainment industry for over a decade. I currently work as a news editor at a major news website, and my focus is on covering the latest trends in entertainment. I also write occasional pieces for other outlets, and have authored two books about the entertainment industry.