What's worse? The claustrophobia of being locked in an elevator or confinement with an unbearable stranger? In "The elevator", by the Uruguayans Sebastian Slepovich and Patricia Alvarez, Both nightmares converge into one, where two strangers are locked in the elevator, without light, without telephones, faced with a blackout in the area that makes any kind of communication impossible. The wait stretches between suffocation and fatalism. The comedy starring Susana Giannone and Juan Paya It is directed by Esteban Prol and can be seen at the Border theater on Thursdays and Fridays at 8 p.m. We spoke with Prol.
Journalist: What happens in the play besides being trapped waiting to get out? How do these characters transform?
Esteban Prol: The elevator is designed as an emotional space, they enter one way and leave another, until they resolve their obstacle, they will remain stuck. The actor says that he enters as a widowed publicist and leaves as a cannibal pygmy. The actress says that she enters as an executive in a very important position and comes out looking like a Pokemon Pikachu who fights in battles, like all those manga and video game characters.
Q: What themes does the work address?
EP: Tolerance comes into play, because they are two antagonistic characters who would never have chosen each other for an after office or for a coffee, they would surely have avoided each other at a party. Sometimes there are situations that, no matter how absurd they may seem, make sense, and sometimes it is better to talk to strangers.
Q: What is at stake in extreme situations like this?
EP: It's like an escape room where the mind plays tricks. I was able to place the characters in situations where they inhabit fantasies, I was able to move them around so that they could move their emotions. You see the discomfort and the desire to go out all the time, which is why they begin to inhabit other imaginary spaces. The characters, out of necessity or desperation or feeling cornered, end up questioning each other without perhaps meaning to. Like a stumble, they connect with sensations that they did not dare to go through before.
Q: How did you think about the setting to get out of the statism of two people locked in an elevator?
EP: The challenge was that, when one is locked up, it is the mind that travels and from there some type of game is proposed that I can express on stage almost literally. That imaginary game becomes present and there they interact in an unexpected way. Due to the circumstance, they are encouraged to do things that they didn't before. The bodies are static but the urgency makes one think about other things and materialize them. The first scenes are unbearable because there are two characters who it is not known if they pass a psychophysicist and have problems that, just thinking about them, are scary.
Q: What area do you enjoy the most? The audiovisual or the theater?
EP: Wherever the game lives, it is my best way of learning. Each scenario has its rules and creation is what inspires me, each project teaches me, that is my process. Discover me and have a good time wherever I am, because there is no money that will pay you to have a bad time.
Q: How do you see the theater scene in the country at this time and how do you see audiovisual production, be it series or films?
EP: He is in very good health, many shows in the off-screen are brilliant, actors and directors emerge, I see colleagues doing wonderful works. Audiovisual production has been growing, it opens on platforms, films are made, I really like genre ones, when they call me, I am grateful.
Source: Ambito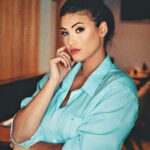 I am an author and journalist who has worked in the entertainment industry for over a decade. I currently work as a news editor at a major news website, and my focus is on covering the latest trends in entertainment. I also write occasional pieces for other outlets, and have authored two books about the entertainment industry.