The architect, designer and photographer Santiago Zemma has just inaugurated the exhibition "Digital Analogy", curated by his daughter, Carolina Zemma. We see some historical antecedents of kinetic art: the work of art had a fixed character until, in the first part of the 20th century, many artists of the time perceived its exhaustion. This generated experimentation and through many searches, they achieved the vision of the movement and the perceptual changes that occurred. Therefore, kinetic art was born as opposition to fixed and definitive compositions.
It was Naum Gabo and Antoine Pevsner who in 1920 coined the expression "kinetic rhythm." These names must be remembered by those of Lázlo Moholy-Nagy, Fernand Léger, Alexander Calder, Jean Tinguely as pioneers, the famous Denise René gallery in Paris and its exhibition Le Mouvement in 1955, which became legendary.
The Argentines Julio Le Parc and Francisco Sobrino went to Paris in 1958, they founded the GRAV (Group de recherche d'Art Visuel) which was joined by the Argentines García Rossi, Hugo Demarco, García Miranda, the French Jöel Stein, Jean Pierre Ivaral , son of Vasarely and François Morellet, a group that dispersed in 1968. Thus, the dynamism, illusion mechanism, optical and luminous effects involve the viewer by opening a psychological as well as physical dialogue, an aesthetic and sensory communication is established, the work It becomes changing and mobile, the work-eye relationship appears.
Many names were associated with this movement, Jacop Agam, Pol Bury, Jesús Rafael Soto, Vasarely, leader of op art, Carlos Cruz Diez, Luis Tomasello, Vardánega, historical and emblematic names of these movements that trace a before and after in their development. Kinetic art was later displaced by trends that gave rise to theoretical analyzes on the nature of the artistic object or the inclusion of global problems.
Within the traditions of optical and kinetic art, Zemma builds a bridge between digital and analog practices, geometric and organic forms, the scales of architecture and the sizes of his optical devices. Its series of analog filters proposes an alternative to digital procedures," is how the curator expresses it in the text written for the exhibition. Zemma uses pink copper, silver and copper, silver and light blue, some of the works rotate on pedestals.
In addition to interacting with the viewer, a fundamental law of kinetic art, they amaze with their beauty, a word prohibited today when talking about art, enclosed in acrylic boxes. However, Soto used it since his works "had the ability to physically speak to the eye."
"The play of lights, reflections and distortions, says Carolina Zemma, transforms the space with its unpredictable glow." The optical sculptures combine the traditional with new materials in which figures are developed through tablets that are incorporated and also allow the vision of a changing geometry that responds to that search for movement that the pioneers of this discipline promoted.
There is also a series of small-sized photographs in which Santiago Zemma documented a series of site-specific interventions that he carried out with his works in museums and cultural places on his travels around the world. A seductive exhibition that, like almost all those related to this trend, changed the static nature of the painting for a vitality that runs through the body and the gaze. (María José Roldán, Libertad 1033. Monday to Friday from 11 a.m. to 8 p.m. Free admission).
Source: Ambito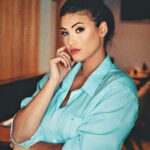 I am an author and journalist who has worked in the entertainment industry for over a decade. I currently work as a news editor at a major news website, and my focus is on covering the latest trends in entertainment. I also write occasional pieces for other outlets, and have authored two books about the entertainment industry.