Dressed as an earthworm, Heidi Klum was completely unrecognizable on Halloween last year. This time too, the German model takes it to the extreme: as a dazzling peacock with a huge egg.
The "Queen of Halloween" has outdone herself: This time Heidi Klum (50) enlisted ten dazzling helpers for her costume – and a big egg was also included. As a larger-than-life peacock in a bright blue outfit, surrounded by ten acrobats wearing shiny green peacock feathers, the German model stepped into the spotlight at his traditional Halloween party in New York.
The spectacular group posed for photographers on their way to the party on Tuesday evening (local time). The model balanced on one of the performers while the other artists stood like a peacock spreading its tail feathers.
There was also a huge peacock egg: Klum's husband Tom Kaulitz (34) was in the white shell. However, there wasn't much to see of the Tokio Hotel guitarist. Just a small hole for the eyes, nose and mouth and two openings for the white arms.
What other costumes were there at Klum's party?
Klum's daughter Leni (19), who was dressed entirely in black as Catwoman last year, now appeared with pink hair in tight pink lingerie. Klum's brother-in-law, Tokio Hotel frontman Bill Kaulitz, also relied on color – as a unicorn with white-pink plush pants.
The mother of four shared the elaborate transformation process with the help of make-up artists with her fans on Instagram during the day with snapshots and short videos. The Halloween queen also presented her tricks on Amazon Live.
At first it posed a riddle: Will it be an alien, a lizard or an armadillo? Klum initially appeared with a scale-like forehead process, glued cheeks and a protruding back of the head. Then came colorful rhinestones, blue hair, silver fingers and orange feathers on her face. But it was only when Klum appeared at the party with a yellow beak mask, head feathers and a colorful entourage that her disguise was visible.
This time she wanted to do an "art performance" with other people, Klum told the "Entertainment Tonight" program on the red carpet. Her team announced that night that Klum contacted the famous Canadian circus Cirque du Soleil and rehearsed the show with ten acrobats. They put almost 2,000 hours of work into the project over months to create the peacock, which is almost five meters high.
How long did it take Klum to make the costume?
This time, her own transformation on Tuesday only lasted about six hours, said Klum with her yellow beak – and clattered demonstratively into the television camera. But the entire planning for all artists involved was very complex.
Klum is known for her extravagant disguise campaigns. In 2015, she transformed herself into the curvy cartoon character Jessica Rabbit with expansive butt and breast prostheses as well as facial pads. In 2018, Klum and husband Tom appeared as the ogre couple Shrek and Fiona. In 2019, makeup artists turned her into an alien zombie with tubes and organs hanging out in a ten-hour operation.
Last year, the Rhineland native and "Germany's Next Top Model" presenter appeared as a giant worm and became a hit on social media. There was a fishing hook in the thick tail end of the costume, and Kaulitz held the other end of the fishing rod in his hand as a creepy fisherman. Before that, Klum had been transformed into a werewolf, an alien or a significantly older version of herself.
The German model has been hosting a big party for Halloween on October 31st since 2000. Only in 2020 and 2021 was their legendary horror festival canceled due to the corona pandemic. This time many celebrity guests celebrated again.
Singer HER was dressed as an astronaut, singer Camila Cabello came in a white mini dress with a silver crown. "West Side Story" star Rachel Zegler celebrated as a "Scooby-Doo" character, "Twilight" actor Taylor Lautner stood out with a pink wig.
Source: Stern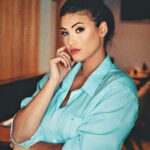 I am an author and journalist who has worked in the entertainment industry for over a decade. I currently work as a news editor at a major news website, and my focus is on covering the latest trends in entertainment. I also write occasional pieces for other outlets, and have authored two books about the entertainment industry.