November 3, 2023 – 00:00

In the Official Section the Argentine "Elena Sabe", a drama by Anahí Berneri, and the American comedy "LaRoy", by Shane Atkinson, will be seen.

Mar del Plata – Today the competitions begin Mar del Plata festival. The Officer does it with two strong titles: "Elena knows", by Anahí Berneriwith Mercedes Morán, Erica Rivas and Miranda de la Serna, adaptation of the novel by Claudia Pineiro where a woman with Parkinson's investigates the death of her daughter, who according to the official version has committed suicide, and "LaRoy by Shane Atkinsoncomedy of misunderstandings that comes from winning the Audience Award and Special Jury Award in Deauville. There is a man who could commit suicide, but he just gets a little job as a killer. Apparently, it is a song to life.
In the following days you will see "Animal/Human" (Alessandro Pugno, life of a child and a calf who will grow up to face each other in the ring), "Arthur & Diana" (Sara Summa, road movie played by the director, her brother and a girl), "Kinra"(Marco Panatonic, drama of loneliness filmed in Cusco and nearby), "Mimang" (Kim Taeyan, sentimental walks of a couple through Seoul), "I'm not going to ask anyone to believe me." (Fernando Frías de la Parra, about to travel to Europe, an innocent Mexican receives an order from the mafia), "Seagrass" (Meredith Hama-Brown, a woman facing the death of her mother and the crisis of her marriage), "Ubu" (Paulo Abreu, the "Ubu King" in Portuguese version) and the Argentinian ones "The souls" (Laura Basombrio, mysteries of the Puna Salteña) and "A ship left me taking me away" (Cecilia Kang, current look at the drama of Korean women enslaved by the Japanese Army during World War II).
The other Competitions are also starting off strong. Argentina, with the klezmer music road movie "Inside me I am dancing", by Leandro Koch and Paloma Schachman, co-production with Austria, where a clarinetist and her lover visit lost villages in search of something that is being lost. The Latin American Competition opens with "The wind that destroys", by Paula Hernándezwhere a fanatical evangelical pastor embodied by Alfredo Castro He tries to prevent his teenage daughter from making her own decisions and taking flight. This weekend they add "The Castle", by René Benchimol, about the woman who inherited a castle-shaped mansion in the heart of the pampas from her employer (a film that has already won awards in Guadalajara, Hong Kong and San Sebastián), "Crowra", by Nader and Salavizathe same as the beautiful "Chuva é cantoría na aldeia dos mortos" and the western "The Colonists", by Felipe Gálvez, where three unscrupulous guys must clear a territory of Indians. And, in the Altered States Competition, Spanish "Especially at night", by Víctor Iriarte, with the meeting of a biological mother and an adoptive mother, played by Lola Dueñas and Ana Torrent. According to the author, It is not a melodrama, although it has something.
That's about the skills. Furthermore, in parallel, it is presented "Love and Cinema", by Victoria Carrerasa tribute to the love of his parents, the popular Enrique and Mercedes Carreras. With this work Victoria completes a warm trilogy of family memories, begun with "Merello x Carreras" (Tita was like family) "Daughters of comedy" (Mercedes, María, Marisa and Victoria herself). That film promises nostalgia and joy. Instead, "Le roi des Aulnes", by Marie-Louise Iribetrue rarity of 1931promises certain anguish, since it illustrates Goethe's poem about a boy besieged by ghostly beings while crossing the forest with his father. It is not a song to life.
By the way, in times of silent cinema Iribe She was an actress, director, and even a producer for her brother-in-law Jean Renoir. She was also the fleeting wife of André Roanne (three years) and Pierre Renoir (four), but that's another story.
Source: Ambito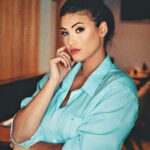 I am an author and journalist who has worked in the entertainment industry for over a decade. I currently work as a news editor at a major news website, and my focus is on covering the latest trends in entertainment. I also write occasional pieces for other outlets, and have authored two books about the entertainment industry.