November 3, 2023 – 17:07

Nutritional quality treats exist. Eating delicious and healthy is also possible. Therefore, don't miss these preparations for all tastes.

The candies They are frequently consumed by Argentines. Although there are many people who eat them and that's it, there are others who prefer to search healthy alternatives. There, the question arises " Are there delicious treats with a greater contribution of nutritional quality nutrients? "Can it be done at home?"
The answer to both questions is yes, there are delicious sweetswith a greater contribution of nutritional quality nutrients and that can be make at home. To make things easier for you, we bring you three unmissable and healthy recipes.
It is worth mentioning that the candies They are, according to the RAE (Royal Spanish Academy), "sweets or confections that are eaten for pleasure or between meals". They have a excess of critical nutrients -such as refined sugars, refined flour, HFCS (high fructose corn syrup), saturated fats and excess sodium- and they do not cause satiety. Furthermore, its constant consumption predisposes the person to suffer diabetes, high blood pressure and cardiovascular diseasesamong other.
What are healthy treats?
The nutritionist Valentina Arevalo listed some "with a greater contribution of nutritional quality nutrients":
Fresh fruits: pieces of apple, banana, strawberries – with the option of adding a melted semi-sweet chocolate topping.
Dehydrated fruits: raisins, apple chips, dehydrated bananas.
Pochoclo or popcorn: with the option of making it a sweet or salty version.
Yogurt ice cream: freezing the natural yogurt plus the addition of pieces of fruit, nuts or chocolate chips.
Homemade cereal bars.
Nuts: almonds, walnuts, peanuts.
Semi-sweet chocolate or with a higher % of cocoa.
Homemade vegetable chips: sweet potato, potato, carrot, beet.
Bran pillows (Unfilled).
Puffed rice.
Quinoa pop.
Baked chickpeas.
Baked seeds. As long as it is homemade it will be the best option.
Quinoa pop bonbons.
Homemade truffles.
Fruit ice cream.
"It is important to understand that to compete with the great successes of packaging, with their characters and strident colors, it is vital to get to work on creativity and use molds, natural dyes, forms and everything appealing to smaller consumers"said the specialist.
Healthy treat recipes
Arevalo also shared some recipes "rich and super simple to make":
SWEET POTATO CHIPS
Ingredients
Sweet potato.
Seasonings (optional).
Procedure
Cut the sweet potatoes very finely, place them on a baking sheet previously lubricated with a little oil (spread with a napkin or brush) and cook in a medium oven until they are cooked. Use the last few minutes of high heat to dry.
BAKED CHICKPEA OR BAKED SEEDS
Ingredients
Cooked chickpeas or some seeds (example of pumpkin).
Peppers.
Oil.
Salt.
Procedure
Season the chickpeas, to the point that everything is very well integrated, and bake in a medium-hot oven for 25-30 minutes. And ready.
CHOCO-QUINOA
Ingredients
50g semi bitter cocoa (chips, tablet).
1 tbsp bitter cocoa powder.
1 tbsp yogurt (optional).
100g quinoa pop.
1 tbsp peanut paste (optional).
Procedure
Melt chocolate in a saucepan over low heat with the peanut paste, add the yogurt and semisweet chocolate. Once everything is integrated, turn off the heat and add the quinoa pop. Place in any mold with parchment paper and shape with a spoon. Finally, put it in the freezer for at least three hours.
Source: Ambito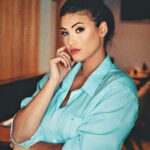 I am an author and journalist who has worked in the entertainment industry for over a decade. I currently work as a news editor at a major news website, and my focus is on covering the latest trends in entertainment. I also write occasional pieces for other outlets, and have authored two books about the entertainment industry.