The Augusto and León Ferrari Arte y Acervo Foundation (Falfaa) and the Isauro Arancibia School will hold the collaborative auction "León Infinito" on November 15 at 7 p.m. with the aim of contributing to the León Ferrari Gallery of the Isauro Arancibia School and with the Ferrari Workshop.
Within this framework, 70 graphic works will be sold that were selected to represent a journey through the multiple reproduction techniques experimented by León Ferrari throughout his entire career, it was reported in a statement.
The auction will be on November 15 at 7 p.m. on Av. Paseo Colón 1,366 in Buenos Aires and also online (by entering: https://subastas.depsuite.com/). The catalogue, available at https://subastas.depsuite.com/, includes the 70 works, mostly part of the book "León Ferrari/Obra Gráfica", which will be published by the National Museum of Fine Arts of Buenos Aires in 2024, as part of the "Infinite Project".
This project began in 2011 with the agreement between Falfaa and the Ministry of Culture of the Nation and the management of Andrés Duprat, to restore the editions produced between 1979 and 1989 by León in São Paulo, Brazil, and included the exhibition "Ferrari Infinito ", an anthological exhibition of the artist's graphic work, inaugurated in March 2021 at the National Museum of Fine Arts.
Among all these works, we can highlight First Letter to the Pope, a silkscreen on handmade cotton paper, made from one of León Ferrari's most iconic works. In 1997, together with a group of artists, they created the Cihabapai (Club of Impious, Heretics, Apostates, Blasphemers, Atheists, Pagans, Agnostics and Infidels in formation), with the purpose of fighting for the annulment of the Last Judgment.
At that time they told the Pope that "it was not possible to suffer the punishments of God the Father for an entire life, following Eve (who fortunately discovered the orgasm) so that after this life you die and the son comes and they resurrect us and we judge again for a sin that was not in the Old Testament. So, first we asked the Pope to eliminate immortality and, second, to annul the Last Judgment because it is unconstitutional."
The serigraph Western and Christian Civilization was made from the work of the same name from 1965 (plastic, oil and plaster). Through a Santeria Christ crucified on a North American war bomber, it was conceived by the artist as a way to express his critical stance towards the Vietnam War.
The serigraph Letter to a General was made based on the work of the same name from 1963, Chinese ink on paper.
The "Heliographies" series is made up of 27 heliographic copies of the original plans made in Letraset and Chinese ink by León Ferrari between 1980 and 1986, during his exile in the city of São Paulo, Brazil.
For Telma Satz, curator and organizer of the Auction, "beyond the beautiful fundraising objective, it is important to highlight that the collection of León's graphic works covers different periods of his production, and includes his most common techniques: etchings, heliographs, serigraphs , lithographs and xerographs". And he assures: "Ferrari's graphic work is at a time of great appreciation and has a prominent place in the history of Argentine art. Without a doubt, it is an excellent investment for collectors and for all those who wish to acquire works of magnitude." .
"Organizing this auction makes me very emotional. León's work moves consciences, reveals impiety, injustice and also rebellion. It is an honor for me to be part of this beautiful group that works through art and education, producing gestures transformers about so much inequality," says Satz, and adds, "this auction is a unique opportunity to get closer to the work of León Ferrari in its enormous creative wealth and access a wide variety of base prices to allow many people to acquire some of his works."
"El Isauro Arancibia" is an educational project for homeless and vulnerable people. "Over time, more and more adults, young people, girls and boys came to reconnect with education in a place of support and reference, where they could build a life project and find new horizons," says Federico González, artist and teacher. from the Isauro Arancibia School. La Falfaa, for its part, was created with the aim of supporting art in all its expressions. With this goal, part of the graphic work will be auctioned as a means to continue expressing ourselves," says Julieta Zamorano, granddaughter of León Ferrari and president of Falfaa. And she adds: "We join the hand of León with the hand of whoever chooses and buy a work of his at the auction, and together, at the hands of the people from the Isauro Arancibia School who created and work at the León Ferrari Gallery with the aim of carrying out more exhibitions of their student artists."
Source: Ambito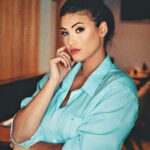 I am an author and journalist who has worked in the entertainment industry for over a decade. I currently work as a news editor at a major news website, and my focus is on covering the latest trends in entertainment. I also write occasional pieces for other outlets, and have authored two books about the entertainment industry.