Scents seduce. But let's be honest: most people use perfume to please others. With room scents, however, we do something good for ourselves. Find out here which noble scents create a feel-good atmosphere.
Thanks to influencers like Jeremy Fragrance, perfumes and especially niche fragrances are experiencing a surge. There seems to be a lot of interest in smelling particularly good and particularly unusual. Unfortunately, the problem is that you can hardly smell even your favorite scent. It's a shame, because smells are similar to music: they affect our senses. And what touches our senses has the power to change our mood, intensify our feelings or make us reminisce.
Just think about the smell of your childhood. You almost certainly associate positive memories with it. How, for example, the smell of sunscreen can put us in the holiday mood. And that's exactly what room fragrances want to achieve. If you want to take your "me time" to the next level, consider scent sticks or candles. Because a long bath on a rainy Sunday afternoon or your current favorite book on the couch are even better when you smell fragrant.
The Ritual of Karma Mini Fragrance Sticks

Summer 365 days a year – who doesn't feel like it? Well, winter also has its beautiful sides, as skiers and snowboarders know. If you still want the chalet to smell like summer, these are the ones precisely. They exude the scent of lotus flowers and white tea.
Molton Brown: Coastal Cypress & Sea Fennel

If you associate summer more with coastal scents, you're better off picking this one . According to the manufacturer, this fragrance transports you to the coast, where the fresh scent of cypress and samphire fills the air. A refreshing aroma reminiscent of summer evenings on the beach.
Aqua di Parma: Luce di Colonia

Away from the coast and into a lemony, warm garden. should offer exactly that. Aqua di Parma should be familiar to perfume experts. According to the manufacturer, Luce di Colonia combines the quintessence of Aqua di Parma in a room fragrance. It is said to combine the freshness of citrus fruits with the warmth of woody notes. A scent reminiscent of sunny days in an Italian garden. There are worse things.
Karl Lagerfeld: Figue & Poivre Noir

The great Karl Lagerfeld (September 10, 1933 in Hamburg; February 19, 2019 in Neuilly-sur-Seine near Paris) was known for his somewhat eccentric lifestyle. Of course, the master also has exclusive scents up his sleeve. is a bold combination of woody notes combined with sweet fig and hot black pepper. Both sweet and spicy, this fragrance embodies Karl Lagerfeld's distinctive style.
Sculpture of Alemee: Gentle Guardian

Thanks to its unusual bottle, it seduces not just the nose, but also the eyes. The scent is a mix of rose, nutmeg and musk. What makes him special is his sculpture: initially white, over time it absorbs the scented oil and turns black. After three to four months the sculpture dries out. Then it's time to refill the oil. Just right for scent-loving decorative foxes.
Maison Margiela: Replica Autumn Vibes

Yes, it's sad when summer comes to an end. Nevertheless, few things are as beautiful as walking through the forest on an autumn day. This is exactly the feeling the scented candle wants Spray in your apartment. The candle combines notes of moss, wood and earth. A fragrance that celebrates the beauty of change – and according to the manufacturer, it burns for around 40 hours.
Byredo: Symphoniqueg

Connoisseurs particularly value Byredo for their excellent soaps and creams. But the luxury manufacturer also offers perfume and scented candles, is a harmonious interplay of woody, spicy notes. Bran and cedar wood are said to leave a long scent. This creates a cozy atmosphere, especially on cold winter evenings. According to the manufacturer, the candle lasts 60 hours.
Parfums de Marly: Delina Candle

Parfums de Marly are best known for their extravagant perfumes. Although the manufacturer also has light and fresh fragrances in its range, it is its heavier fragrances that are particularly popular with fans. One is also available and as is usual for Parfums de Marly, it has a royal touch and is intended to be reminiscent of the garden of a feudal lord. What do you smell there? Apparently notes of rose, lychee, rhubarb and vanilla.
Maison Francis Kurkdjian: Baccarat Rouge 540

Hardly any niche fragrance has as many fans as . The perfume belongs to the category of scents that you wear when you have made the deal of a lifetime. Baccarat Rouge is an opulent and intense fragrance reminiscent of a luxurious Parisian boudoir. If you're entertaining guests who need to be impressed, then this is the scented candle for you.
EIGHT & BOB: Sagaponack

Eight & Bob is particularly known for its Original perfume, which was worn by none other than John F. Kennedy. So it's hardly surprising that is a scented candle reminiscent of the Hamptons, with notes of citrus, sea salt and white musk. Perfect for those looking for the luxury of a beach house in their own home.
Source: Stern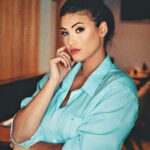 I am an author and journalist who has worked in the entertainment industry for over a decade. I currently work as a news editor at a major news website, and my focus is on covering the latest trends in entertainment. I also write occasional pieces for other outlets, and have authored two books about the entertainment industry.