She was on the way from Hamburg to Berlin: "It was that one day when I relapsed," says Jenny Elvers.
Actress Jenny Elvers has spoken publicly about an alcohol relapse. The 51-year-old confirmed to "Bild" that she had been reported for drunk driving. "It was that one day that I relapsed. I'm so sorry," she said.
In response to a dpa request, Elvers' management confirmed the report and said that Elvers would not comment further on the events for the time being.
The Ostprignitz-Ruppin police had reported that on October 31, a 51-year-old driver was found to have a breath alcohol level of 1.77 per mille during a check on a country road in Brandenburg and an investigation was initiated.
Elvers confirmed the incident and explained to "Bild" on Sunday evening: "I've been suffering from depression for over ten years, which is why I started drinking and drugging myself with alcohol. I'm actually well adjusted to medication. However, there is There are always phases in which I feel sad and realize: I have to be careful."
Before the Oct. 31 incident, Elvers said she was not feeling well. "I was looking for an outlet, unfortunately the wrong one, and drank alcohol that one day. Combined with the medication, it was the worst thing I could have done." She was on the way from Hamburg to Berlin, where she wanted to see her doctor. While driving, she realized that she couldn't drive safely – and pulled off the highway to get some sleep.
Her driver's license is now gone, but she is doing better, said Elvers. "The alcohol is out of my system, I'm completely sober again. I'm undergoing treatment. The crux of why I drink is the depression."
Elvers wrote on Instagram on Sunday evening: "People make mistakes when they are not feeling well – when depression hits with full force." They said she didn't want to hurt anyone. And: "I'll get it back."
The actress ("Männerpension") and reality show participant has repeatedly made the headlines with her private life throughout her career. In 2013, Elvers spoke publicly about her alcoholism and also discussed it in her 2018 autobiography "Wacky Years: My Life Between Glamor and Crash".
Source: Stern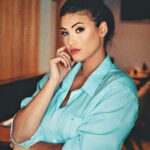 I am an author and journalist who has worked in the entertainment industry for over a decade. I currently work as a news editor at a major news website, and my focus is on covering the latest trends in entertainment. I also write occasional pieces for other outlets, and have authored two books about the entertainment industry.