Nicola and Oliver Mommsen have separated, the actor confirms. He also revealed that both are taken again.
Secret marriage breakup for actor Oliver Mommsen (54) and his wife Nikola (54). They separated after almost 30 years together. The former "Tatort" star confirms this to the magazine "Bunte". He explains that great love had already turned into a deep friendship before Corona. But apparently one cannot imagine conditions similar to the War of the Roses, because there was no "hatred or war". Instead, the two managed to separate respectfully. "We had a few rocky years, but at some point we sat down and thought about how we could have a sensible separation," said the actor.
The still-married couple has two adult children. That's one of the reasons why it quickly became clear to them "that we don't want to become each other's enemies and that we never want to completely close the door on each other," says Mommsen. "Just because you don't love each other anymore doesn't mean you have to hate each other." But as with probably every separation after such a long time together, the path to it was "not always free of obstacles and long," the TV star admits. Nevertheless: "We did it."
Second career after "Tatort" – and a children's book

Since his departure as Bremen "Tatort" detective Stedefreund, whom he portrayed from 2001 to 2019, the Düsseldorf native cannot complain about a lack of work. Several films a year and theater engagements fill his schedule. In an interview with spot on news in 2020, he told how this affects family life: "When I'm at home, I notice that seeing the children is a bit like playing the lottery. But that's not the case "It's just me. Our son Oskar is out of the house, he's studying in Amsterdam. To see him, you have to make a specific appointment." And about their daughter he explained: "And with our daughter Lotte it's like this: If you get ten minutes together a day, you've already accomplished a lot. She's very busy and travels a lot."
And about Nici, as he calls his wife of many years, he said at the time: "My wife made very good use of the time without me. Among other things, she wrote her first book: 'Anton and the things between heaven and earth' [ein Kinderbuch, Red.]. I think it's really successful and I'm very proud of her," he enthused about her professional success in 2020. And further: "It's great when you suddenly discover a completely different side of someone you think you know. I was then allowed to play the narrator for the radio play and was therefore employed by my wife."
In firm hands again

Their love life together is now history. And also because there is still a private message to announce. "Both are already in safe hands again," reports the magazine. Was it difficult for him to fall in love again after so many years together? "Oh yes! That was horror. It was really weird at times," admits Oliver Mommsen.
Source: Stern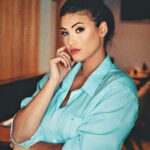 I am an author and journalist who has worked in the entertainment industry for over a decade. I currently work as a news editor at a major news website, and my focus is on covering the latest trends in entertainment. I also write occasional pieces for other outlets, and have authored two books about the entertainment industry.