"I see addiction to technology as a symptom of a certain emptiness typical of an era that leaves no room or space for look without wanting to be seen", says Carlos Ares, author of "All good?", which premiered this weekend at the Cine Teatro El Plata in Mataderos directed by Leonor Benedetto. It features the performance of Juan Manuel Correa, Micaela Sol Bruzzone and Carlos Ares and addresses the advantages, dangers and excesses of technology, where the characters are, each in their own way, being victims of the vertigo of this progress and have forgotten what the first signs of love are like. We dialogue with Ares.
Carlos Ares: As a journalist I consider myself a "chronicler" of those who go out into the streets. Writing theater for me is chronicling everyday life through other means. In the work I do not take up the technological issue, warning about dangers or excessesIn any case, this occurs as a consequence of some of the characters warn the other about the risks of a certain way of acting.
AC: If you look, at home, in the bondi, on the street, in the bars, at the people absorbed in the screen, needing to be connected, anyone would say yes, but I don't believe it. Empirical evidence only proves change in forms, not content. This is: it seems so, but at the same time we continue exchanging the same feelings as always, love, friendship, hate, passion, joy. It is also true that can cause addictionlike so many other things.
Q: What do the characters face and what are they like?
AC: The characters face these issues we talked about, how to relate in a human way. They are in some way intervened by the mediation of technology. Suddenly, desire, love appears, what to do with that?
Q: What other themes does the work touch on?
AC: There is something, an idea, a proposal sometimes explicit, sometimes implicit, sometimes vague, sometimes very clear, but in Ultimately, the spectator who looks sees what touches him somewhere in his own history or from someone else.
Q: Is there demonization of so-called progress?
AC.: Like everything, it depends on what we call "progress". Climate change and environmental disasters are consequences of a certain economic "progress" for some that harms others. But There is no doubt that technological progress has allowed millions of people to access knowledge that until recently were unattainable to them. They can learn languages, play instruments, listen to music from all over the world, cook with great chefs, film, travel virtually, there are millions of places of interest to be found. displayed in an infinite menu.
Q: What happens to bonds and love in the frenetic world of cell phones and apps?
AC.: Love is the feeling that constitutes us. From which all the others emerge. The way you bond can change, but not the essence of love. He does not change, nor progress, nor regress. We are made of love. We can't think outside of that. In philosopher mode he would say, "I love, therefore I am."
Q: How was the work transformed from paper to performance?
AC.: It was a great job by the director, Leonor Benedetto. Without his wisdom, experience, knowledge, it would not have been the same. She discovered the heart hidden in the text and exposed it. The actors surrendered to herto their suggestions, markings, advice, to, in turn, reveal themselves in the characters. I attended all the rehearsals and take a intensive acting course.
Q: How do you see the theater scene?
AC: It is recognized as one of the most powerful in the world. Every weekend there are almost two hundred open spaces to choose from. Musical theater, research, avant-garde, classical, whatever you want, with trained, prepared, incredible actors. There is something there, tradition, transmission, hunger, thirst, that remains against all despair, or because of that despair. Theater always comes to tell us that hope, the illusion that we are better than thisthat the life we ​​are leading endures.
Q.: How was your foray into playwriting after years of journalism?
AC.: I don't feel like a "playwright" but rather a curious journalist who is intrigued by people, the world in which he lives, who now writes his chronicles for the theater. This happened because Tito Cossa once read some of the first works I wrote and told me: "You have a very good ear for theater music, which is dialogue". As he said, such encouragement was enough for me to start writing. And so several works came out. With one of them, "Others of us", we performed at the Ibero-American Festival of Cádiz. Now "Everything is fine" is released at the Teatro Cine del Plata in Mataderos with a production by the Teatro San Martín and on Tuesday, November 21, "Eternos hasta Tomorrow" at El Galpón de Guevara, in Chacarita.
Source: Ambito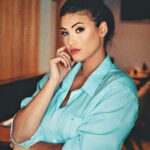 I am an author and journalist who has worked in the entertainment industry for over a decade. I currently work as a news editor at a major news website, and my focus is on covering the latest trends in entertainment. I also write occasional pieces for other outlets, and have authored two books about the entertainment industry.