Moving through the world on bare feet is healthy. Often very inconvenient and sometimes painful in everyday life. Barefoot shoes give our feet the freedom they need. But do they also keep you warm in winter? 6 models for cold days and every occasion.
"Barefoot or patent leather shoes, everything or nothing?" asked the legendary and unforgettable Harald Juhnke in one of his songs more than three decades ago. Juhnke, the older ones among us will remember, was anything but a quiet person. But this is another story. So-called barefoot or minimal shoes have written a real success story in recent years. The idea behind the minimalist kicks is as simple as it is ingenious. Because everyone is born barefoot, walking on bare soles is the most natural (and healthiest) of all forms of transportation. And it is precisely this simple idea that the developers of barefoot shoes used. The decisive feature and most important difference to ordinary sneakers, patent leather shoes or hiking shoes: the flexible sole. And if you are now getting cold feet, both literally and mentally, you should read on. Because both are unfounded.
Six barefoot shoes for every occasion

1. The sporty one

Leguano is one of the pioneers among minimal shoe manufacturers. Of course, the factory in Buchholz, Rhineland-Palatinate also produces special models for cold days. The winter version from the active range comes in four color combinations. The usual flexible and non-slip Lifolit sole is intended to ensure a perfect barefoot feeling. The Aktiv Winter is lined with 100 percent wool. So cold feet are almost impossible. The mesh upper makes these sporty barefoot lace-up slippers a chic everyday companion. This shoe is also suitable for moderately profiled hikes. No matter where it is used, the wearers train and strengthen their foot muscles and prevent back problems. Here's it .
Tip: Lightweight on very cold days put on your shoes.
The key data
Sole: 8 mm (including studs)
Upper material: Mesh (polyester)
Inner lining: 100% wool (not Merino)
Weight per shoe: approx. 240 g
2. The Elegant One (Leather Stockings)

At first glance, you might think that the Gobi II from Vivobarefoot is an ordinary mid-height lace-up shoe made of leather. It comes across as slim and elegant. If you take a closer look at the sole, it quickly becomes clear that this must also be a barefoot shoe. The studded casual sole is just three millimeters thick. The leather (according to the manufacturer from wild animals living in Africa) and a three millimeter thick and removable cork sole ensure warm feet and a pleasant climate in the shoe. The shoe goes well with casual jeans as well as a suit or other business look.
The key data
Sole: 3 mm (plus 3 mm insole)
Upper: Pittard leather
Inner material: leather
Weight per shoe: 292 g (size 42)
3. The toe flatterer

Let's come to the only real toe shoe in this little overview. Trekking fans in particular have probably come across Vibram more often. And that literally. Vibram is one of the leading sole manufacturers that specializes in trekking, climbing and outdoor sports in general. More specifically, the shoes that are worn. And even more specifically what is supposed to provide grip under the shoes. Vibram produces rubber soles. In addition to their core business, the Italians also took on the topic of barefoot shoes a few years ago. The models from the FiveFingers series, which strictly speaking should be called the FiveToes series, are particularly popular. In contrast to many other barefoot shoes, each toe has its own box, which makes the barefoot feeling even more tangible and realistic. Looks like it It may take some getting used to, but it is a real challenge for the often neglected tendons, muscles and ligaments in the foot. Anyone who wears the shoes regularly has a good chance of permanently correcting misalignments and thus the posture of the entire body.
Tip: If you tend to have cold feet, it is better to slip into barefoot shoes with socks, especially on cooler days. Important: Of course they have to be toe socks.
The key data
Insole: 4 mm (PVC/wool)
Upper material: Cordura nylon
Inner material: wool
Weight per shoe: 175 g
4. The Hybrid

Barefoot shoes are a bit like car tires. There are the perfect slippers for the summer. Put on a set of winter tires from October to Easter. If you don't feel like it, just get all-season tires. A kind of hybrid. Which brings us to would be. Because these barefoot shoes should accompany their wearers safely and healthily through all four seasons. For this purpose it was equipped with a removable thermal fleece (viscose and polyester). Depending on how cold you feel, the individual elements can be placed in a small pocket in the shaft and removed again. The mesh is said to be water-repellent (not waterproof), which also makes the shoe attractive for winter hikes. However, the manufacturer recommends additional waterproof socks, like these, for longer tours in wet or snowy conditions .
The key data
Sole: 6 mm (plus removable insole)
Upper material: mesh
Inner lining: synthetic fiber
Weight per shoe: 230 g (size 41)
5. The beginner

If you want to use the cold season to explore the topic of barefoot shoes, you could use this try his luck. The rubber sole of this minimal shoe measures just over four millimeters. For the cuddly feeling, the shoe was lined with faux fur in a rabbit fur look. The toe box should be extra wide so that the five friends have enough freedom of movement. According to the manufacturer, the upper material made of polyester and suede protects the feet from splashing water. The Defender Will I should even work in the snow. Nice: It comes in six different designs.
The key data
Sole: 4.2mm
Upper material: polyester/elastane/microfiber suede
Inner lining: Oxford fabric + faux fur (imitation rabbit)
Weight per shoe: kA
6. The one for the little ones

Feet of children and adolescents take a lot of time to develop. This only works if you give your small (and later larger) feet space and freedom. This is the only way the bone structure, tendons and nerve endings can coordinate and harmonize perfectly with one another. 26 bones, 33 joints and more than 100 tendons, muscles and ligaments need to be brought into harmony. A real challenge. Children's barefoot shoes are very generously cut, especially in the toe area. This is the only way the little toes can move freely when walking and running. And because puddles magically attract even the youngest children, barefoot shoes for children should definitely be waterproof or at least water-repellent. The have a high shaft, which ensures that children stand even more stable and securely in the shoe. The thin and flexible rubber sole allows little ones to feel the structure of the floor.
The key data
Sole: natural rubber
surface material: leather
Inner material: wool
Weight per shoe:-
Further information are available here.
Source: Stern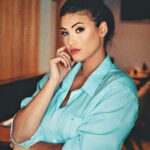 I am an author and journalist who has worked in the entertainment industry for over a decade. I currently work as a news editor at a major news website, and my focus is on covering the latest trends in entertainment. I also write occasional pieces for other outlets, and have authored two books about the entertainment industry.