In a song at the beginning of the year, Shakira got even with her allegedly unfaithful ex-husband, footballer Gerard Piqué. Just the beginning of a media mudslinging. Now Piqué has commented in detail for the first time.
The public mud fight with Shakira apparently took its toll on footballer Gerard Piqué. For the first time, the sports star has spoken out about the dispute with the mother of his children.
Gerard Piqué comments on Shakira's separation

"If I had given importance to everything that was said about me, I would be locked in an apartment or would have thrown myself from the sixth floor," he says in an interview with the Catalan Radio station RAC1. He only survived the time "because I shielded myself from all the accusations," said the athlete. Not everything that was said was true. "I can't go out every day and deny things that aren't real," explains Piqué.
On January 12th, Shakira released a song with Argentinian DJ Bizarrap in which she accused Piqué of infidelity. In her track, she not only shot against the professional footballer, who should be used to making headlines about him, but also against his former affair and current girlfriend, Clara Chía Marti.
"You thought you would hurt me, but you made me stronger. […] I'm worth two 22s [so alt war die Freundin offenbar während der Affäre]. You traded a Ferrari for a Twingo, you traded a Rolex for a Casio. "I'm too big for you, that's why you're with someone who's just like you," the Colombian sang, among other things.
Public War of the Roses

In April, Piqué involuntarily messed with the whole of Latin America when he also talked about Shakira in an interview. "My ex is (…) Latin American. You can't imagine the comments I got on social media from her fans. Millions of barbarities!" he said, adding: "But I don't care about any of that. "Honestly, it doesn't matter because I don't know them. These people have no lives and why should I care? I'll never know them, they're robots."
Whether he actually wanted to lump all Latin Americans together remains to be seen. Shakira nevertheless took up her unfaithful ex-partner's statements, saying she was "proud to be Latin American." Meanwhile, comments from angry Latin Americans were piling up on Piqué's Instagram profile. "In Latin America we only know you because you are Shakira's ex," wrote one fan. "Your children have Latin American blood in them. You forgot that," posted another.
"People don't even know ten percent of everything that happened," Piqué says now. He obviously didn't want to go into the details in more detail.
source:
+++ Read also +++
Source: Stern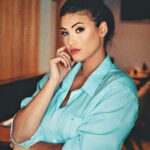 I am an author and journalist who has worked in the entertainment industry for over a decade. I currently work as a news editor at a major news website, and my focus is on covering the latest trends in entertainment. I also write occasional pieces for other outlets, and have authored two books about the entertainment industry.