Oliver Pocher published emotional words for his son's birthday – including to Amira despite the separation.
Oliver Pocher (45) and Amira Pocher (31) celebrated the birthday of one of their two sons on November 11th. Papa Pocher published for his fourth birthday. Despite the separation of the comedian and the presenter, he also addresses a few words to Amira that seem conciliatory.
Oliver Pocher always wants to be there for his son

"4 years ago today was a special day. Our son was born on November 11th in Cologne," writes Pocher about a picture that was apparently taken in the hospital at the time. One hand each of the parents and the child can be seen in the photo. He hopes that the little one can "keep his cheerfulness even in this challenging time." And he adds: "I love you more than anything and will ALWAYS be there for you. You and our second son are the absolute highlight of our relationship."
With the "challenging time" the comedian is probably alluding to the couple's separation. In the joint Podimo podcast "The Pochers!" They announced the end of their relationship at the end of August. "It's time to educate people. […] We thought this was probably the best way to say it. We're separated. That's it," it said at the time.
He later ended his collaboration on the podcast and has recently continued it under the title together with his ex-wife Alessandra Meyer-Wölden (40), to whom he was married from 2010 to 2014. Oliver and Amira Pocher married in autumn 2019. Their two sons were born in the same year and at the end of 2020. He and Meyer-Wölden have three other children.
Oliver Pocher: The children deserve a mother like Amira

Pocher now writes on Instagram to his former partner Amira: "Thank you too, Amira, for being the loving mother that our children deserve." Meanwhile, she shows how much love and effort she put into baking a cake. For their son, she decorated them with characters from the popular children's series "Paw Patrol".
But the birthday child hasn't received her big present from mom Amira yet. "I hid them and just forgot about them," she wrote on a clip of two children's bikes in the "Paw Patrol" design on Sunday. She explains with a laugh: "Yes, there was something else. I simply forgot to give the children their present yesterday." There was so much going on that she didn't think about it anymore. Amira Pocher is also not sure whether she should give the kids the bikes today or wait until Christmas.
Source: Stern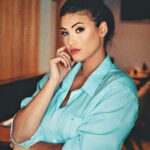 I am an author and journalist who has worked in the entertainment industry for over a decade. I currently work as a news editor at a major news website, and my focus is on covering the latest trends in entertainment. I also write occasional pieces for other outlets, and have authored two books about the entertainment industry.