He was once mocked as the eternal heir to the throne. Charles has been King of Britain for just over a year now. Have his creative opportunities become even smaller since then?
Charles III with the magnificent Imperial State Crown on his head: The sight was still somewhat unusual when the British monarch recently opened Parliament in London for the first time with a "King's Speech". Although he celebrates his 75th birthday on November 14th, he is still a newcomer to the throne. When his mother, Queen Elizabeth II, celebrated her 75th birthday in 2001, she had already been queen for almost half a century.
But the past year has not been uneventful. Charles and his wife Queen Camilla (76) have now completed three state visits, the Trooping the Color birthday parade and countless receptions. More importantly, more than a year after his mother's death and six months after his coronation, some peace has returned to the Windsor household.
Harry probably won't come for his birthday
On his birthday last year, the release of the six-part Netflix documentary "Harry & Meghan" and the autobiography of his son Harry (39) "Spare" (in German: "Reserve") was imminent. Both were riddled with unpleasant indiscretions and accusations that dragged the royal family into a maelstrom of negative headlines. Among other things, there was an accusation that Harry's wife Meghan (42) had fallen victim to prejudice within the royal family because of her partly African-American roots. Harry also made serious allegations against his stepmother Queen Camilla (76) and his brother Prince William (41).
But little by little the excitement died down. British media speculated that problem child Harry would probably not be there at his birthday party, which the king wanted to celebrate on a small scale. Although the waves are no longer as high as they were a year ago, reconciliation is not yet within reach, the Sunday Times quoted a palace insider as saying.
Difficult journey to the former colony
Charles' state visit to Germany in March, however, was a complete success. It was similar in France in late summer. In both countries, Charles spoke to parliaments in the local language, conjuring up friendship and close ties: it was balm for the soul of Great Britain's European allies, battered by Brexit.
The recent trip to the former colony of Kenya was a little more difficult. Even before the trip, the king was confronted with demands for an apology and reparations for the injustice he suffered during the time of the Empire. At the state banquet in Nairobi he spoke of "terrible, unjustifiable acts of violence against Kenyans." There was no explicit apology. But that wasn't in Charles' hands. He always travels on behalf of the British government, which has to approve every word of his speeches. Accordingly, there were disappointed voices in Kenya.
He is causing offense with his fight for climate protection
The fact that Charles is head of state in Great Britain, but is by no means always the master of his own actions, became clear last year when the government in London refused to allow him to take part in the World Climate Conference. The then Conservative Prime Minister Liz Truss supported the exploitation of new oil and gas fields in the North Sea and wanted to lift the ban on fracking. A king who called for climate protection didn't fit her picture.
For the self-confessed climate activist Charles, this was a humiliation. But Truss is history again and it is already clear that he will be at this year's COP 28 climate conference in Dubai. The king's "unique ability" to bring people together has proven to be a powerful tool for finding solutions and inspiring people, the palace said in a statement.
He will now be allowed to speak again at the World Climate Conference, but he will neither be able to discuss the fact that the current Prime Minister Rishi Sunak has withdrawn milestones for achieving climate neutrality, nor will he be able to change it.
Charles's hands are often tied
This is also why the journalist and royal expert Alexander von Schönburg sees Charles as a tragic figure, so to speak. During the speech in Kenya, it was "clearly noticeable once again how much his hands are tied to make a big gesture in any direction because he is simply not allowed to do that," says von Schönburg, who wrote a book with him this year Title "What remains, what becomes – the Queen and her legacy" published in the dpa interview. The sensitive king certainly has great compassion for the victims of colonial injustice and may want to go further than raison d'être allows, believes the nobleman, who also knows Charles from personal encounters. It is similar with the issue of climate change.
Von Schönburg is reminded of the image of Charles's visit to the hospice a few weeks ago, during which the king was presented with a self-made paper crown by a little girl and sums up: "He's actually a king with a paper crown on."
Source: Stern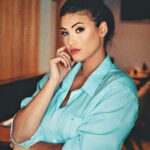 I am an author and journalist who has worked in the entertainment industry for over a decade. I currently work as a news editor at a major news website, and my focus is on covering the latest trends in entertainment. I also write occasional pieces for other outlets, and have authored two books about the entertainment industry.