Backstreet Boys member AJ McLean hasn't seen his father for 42 years. Now there was a meeting.
Singer AJ McLean (45) met his father again after 42 years. He last saw him when he was three years old. Reason for the reunion: After undergoing therapy in the summer, he wanted to find out more about his roots. The Backstreet Boys star spoke about this in an interview with "PageSix".
He wanted to hear his father's story firsthand

According to the report, the singer went to therapy in Scottsdale, Arizona in May – a week after the boy band's world tour ended. There he "completed ten weeks of an intensive, outpatient program for past trauma, post-traumatic stress disorder and depression." McLean explained why he chose treatment: "Not so much for my sobriety, because that's pretty solid." He has been sober for two years: "I go to my meetings regularly and do my twelve-step program." He takes it very seriously, "but I had to get to the root of it." That's why he really wanted to get to know his father better. The singer didn't want to explain why he hadn't seen him for so long.
The two had only "talked here and there via text messages" over the past few years. The therapy was then "the trigger" for McLean to ask for a meeting. He wanted to "hear first-hand" what his father had to say so that he could then make his "own decisions". "And that's exactly what I'm trying to do right now. There's a healthy form of selfishness, and I make my own decisions in life now." Previously he only knew his mother and grandparents' side.
McLean is committed to a healthier life

He also wants to change other things in his life: The Backstreet Boys star has decided to better differentiate himself from his role in the band. "AJ is a person. It's a job. It's not who I really am. It doesn't define me." That's why he prefers to be called Alex in private, he revealed to "PageSix". He has a lot going on, is planning a solo project and wants to start a fashion company next year.
He also takes better care of his health now. In 2001, McLean revealed that he was an alcoholic and was using cocaine. "I've lost 30 pounds. I'm in better physical shape now than I was when I was 19," he emphasized. He mountain bikes six days a week. Recent therapy has shown him: "If I'm not feeling well, I can't take care of my family. So the order is: my sobriety, God, my family, me – and then we're good."
Source: Stern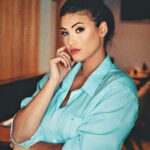 I am an author and journalist who has worked in the entertainment industry for over a decade. I currently work as a news editor at a major news website, and my focus is on covering the latest trends in entertainment. I also write occasional pieces for other outlets, and have authored two books about the entertainment industry.