The Bambi is considered one of the most important media awards in Germany. Now he is coming back from the Corona break and is looking back on 75 years of glitz and glamor in his anniversary year.
Paul McCartney has one, Tom Hanks, Kate Winslet and the Pope too. Alain Delon dedicated his Romy to Schneider and Liz Taylor was almost late for hers. The "Bambi" has been awarded for 75 years. Now he is celebrating his birthday in the Bavaria Film Studios near Munich. There is a big gala there today – the first since the three-year Corona break. Sat.1 will broadcast the event live from 8:15 p.m.
"Hubert Burda Media has decided to use the 75th anniversary of Bambi as an opportunity to award Germany's most important media prize again after four years of interruption due to corona and the crisis," the media group announced as organizer – and it is not taking advantage of the anniversary not only as an occasion for a new beginning, but also for a look back at more than seven decades of glitz and glamour.
Bambi awards since 1948
The Bambi has been awarded since 1948, and since 1953 with a big gala to which the really great ones have always been invited: In 1968, acting legend Elizabeth Taylor was awarded a Bambi – and came with an allegedly no longer completely sober Richard Burton 37 minutes too late for the award ceremony at the television studio in Munich. A year later, Omar Sharif won the Bambi for "Doctor Zhivago."
In 1971 the Bambi was awarded in Monte Carlo – with Countess Gracia Patrizia as guest of honor. At the time, she wanted an autograph from Uwe Seeler, who was also present in Monaco, as stated in a "Bunte" special issue celebrating 50 years of Bambi from 1998.
The following year, the fire department had to rescue Peter Alexander from a fan siege at Rosenheim train station. He was able to save himself by jumping on the Bambi special train to Salzburg, where the award ceremony took place in 1972. In 1987, Alain Delon dedicated his Bambi to Romy Schneider, who died in 1982, with the words "For you, my doll".
Big names on the list of honorees
In all these years, Bud Spencer and Terence Hill have received a Bambi, Larry Hagman, Sean Connery, Boris Becker and Hannelore Kohl, Steffi Graf, Paul McCartney, Gina Lollobrigida, Audrey Hepburn, Boris Jelzin, Whitney Houston, Jennifer Lopez, Michael Jackson and Muhammad Ali, Bill Gates, Lady Gaga, Tom Hanks, Kate Winslet and even the Pope. Francis was presented with the trophy in the Apostolic Palace in 2016.
The Bambi will now be awarded in twelve categories in this anniversary year. Some of the winners have already been chosen: Danish actor Mads Mikkelsen ("Der Rausch") will receive the Bambi in the "International Acting" category, and the Swedish pop singer Zara Larsson will receive the Bambi in the "International Music" category. Peter Maffay, who received a Bambi 43 years ago, is declared a "legend" and actress Senta Berger receives one for her life's work.
In the "National Film" category, the films "Just Something Beautiful", "Oskar's Dress" and "A Thousand Lines" are nominated; in the "National Actress" category, the actresses Jeanette Hain, Karoline Herfurth and Jördis Triebel are nominated, and in the "National Actor" category "Florian David Fitz, Felix Kammerer and Elyas M'Barek.
What Rock Hudson is said to have said at the gala in Karlsruhe in 1960, according to Burda, may apply to them – at least on that one evening: "Bambi…or not to be".
Source: Stern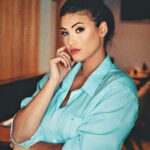 I am an author and journalist who has worked in the entertainment industry for over a decade. I currently work as a news editor at a major news website, and my focus is on covering the latest trends in entertainment. I also write occasional pieces for other outlets, and have authored two books about the entertainment industry.