Ex-"Bachelor" Dominik Stuckmann talks in an interview about his entry into "PBB" and reveals how his partner Anna supports him.
Dominik Stuckmann (31) found his true love on TV as "Bachelor" in 2022, now he wants to get a taste of new reality TV air. On November 18th he will move into the "Celebrity Big Brother" shared apartment (can be seen via live stream on Joyn Plus+). The new "Celebrity Big Brother" season starts on Sat.1 on November 20th at 8:15 p.m. In an interview with the news agency spot on news, the former TV Rosenkavalier talks about the reasons for his participation, gives an assessment of his fellow contestants and reveals how he would like to win the show. He also gives an insight into his relationship with girlfriend Anna Rossow (35) and tells how she supports him in his "PBB" project.
"Celebrity Big Brother" is your first real reality TV show apart from "Bachelor". Have you been thinking about taking part in one for a while?

Dominik Stuckmann: I had a really nice experience on "Bachelor". I didn't think I would enjoy it so much. Of course it's also thanks to the fact that I found love there (laughs). But it is a completely different format to "Celebrity Big Brother". I was in a beautiful place with a lot of attractive women, had wonderful dates, none of that will happen now. I thought about doing this for a long time, but I want to take the opportunity to take part in such an experiment for the first time. I considered "Battle of the Reality Stars", Jungle Camp or "Celebrity Big Brother" and chose the latter because I think it suits me quite well at this point in time. I'm looking forward to the time, but I'm also very excited to see what it will do to me.
What do you respect most in the show, what concerns do you have and what will you miss most about the shared apartment?

Stuckmann: What I have the most respect for is living together. I live there with people with whom I probably wouldn't move into such a shared apartment with in my free time. I think there are super polarizing characters involved and that can very quickly become exhausting and take its toll on your psyche. What I will miss most, of course, is my girlfriend, my dog ​​and this uninterrupted life outside, where you can just do whatever you want.
Why do you think you could win the show?

Stuckmann: I always compete to win. I'm a very ambitious guy and I just hope that the audience gets to know a side of me that's relaxed, that's humorous and that I can convince the audience with that side. Television still has to work without major scandals. That would be a statement.
What do you say to your previous roommates?

Stuckmann: I don't really know anyone personally yet. With Yeliz [Koc, Anm. d. Red.] I was once at a table at a show having lunch, Matthias [Mangiapane, Anm. d. Red.] I met at a party. I go into the matter with a super open mind and give everyone the chance to get to know me and vice versa. I don't want to pick any names, but I do believe that the combination of people, some of whom are already very experienced, will cause a lot of excitement.
It is new that the residents can be seen in the live stream at any time. How do you find that?

Stuckmann: On the one hand, it is a tough and even greater challenge for me. The fact that anyone can look in at any time is a different feeling. You no longer have any privacy. I hope that at some point I can forget about being watched. On the other hand, it's good because no one can pretend and everyone can get a real picture without the editing deciding how they are portrayed.
The "Bachelor" men Daniel Völz and Paul Janke each came fourth. Have you spoken to them about their experiences in the TV container?

Stuckmann: No, I didn't. I want to approach the matter with an open mind. I did that on "Bachelor" back then too. I didn't watch any episodes before because I thought to myself, I don't want to copy patterns from somewhere, I just really want to be myself. I stay true to myself, I stay authentic and that will be the best way. But one thing is certain: I definitely want to finish better than fourth (laughs).
In 2022 you were the "Bachelor". How do you look back on the time afterwards? How has your life changed?

Stuckmann: Nothing is the same as it was before. So much has changed, mostly for the better of course, because I found Anna there on the show, which no one can really believe. We are the only "Bachelor" couple who left the show together and are still together. It was a wonderful time and I received great feedback from so many people. That's why I'm now daring to embark on a new adventure. I hope that at some point I will look back on my time on "Celebrity Big Brother" in such a positive way. Another way life has changed is that you are in the public eye, you are judged a lot and your privacy has become a little less. For example, you have many nice events to which you are invited. This all has advantages and disadvantages.
How did you manage to ensure that the relationship lasted after the show?

Stuckmann: There is no real secret recipe for it. I think it's very important that you don't get off the ground and get soaring, especially in the turbulent time after the show. We both have the same circle of friends, which keeps us very grounded. We haven't changed, I would say. We are still the same as we were before. Of course it was a challenging time at the beginning, we depend on each other a lot. There was a bang a few times too. But we always came back together. And if we're not feeling well, we watch the last episode where I give the rose, then we'll be fine again (laughs).
What have been your highlights as a couple so far and what future plans are you making together?

Stuckmann: The last two years have been a complete highlight. Everything that happened after that, from the autograph sessions we gave to our travels and Anna's move from Hamburg to Frankfurt. We moved into a new apartment and redecorated it. We recently went to Bali and adopted a small dog. We ourselves are always amazed at what has happened. Family planning will come up at some point in the future.
What does Anna say about your participation in "Celebrity Big Brother"? How will she support you during your time in the house?

Stuckmann: Anna supports me wherever she can. She said, "Go for it, if you're up for it then do it. I wish you good luck. I'll hold down the fort here." She will also come to Cologne so that she is not completely alone in Frankfurt. She will continue to maintain my Instagram account to give people a little update on how I might be doing. It will be an exciting time when she won't be with me, but will still be at my side.
Source: Stern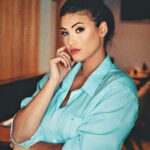 I am an author and journalist who has worked in the entertainment industry for over a decade. I currently work as a news editor at a major news website, and my focus is on covering the latest trends in entertainment. I also write occasional pieces for other outlets, and have authored two books about the entertainment industry.