November 20, 2023 – 00:00

What to do with the past in a present like this? It is the title of the exhibition that is exhibited in the Mamán gallery with the curatorship and text of Patricia Pacino, an essay by Daniel Capardi, visual artist, theorist, and general direction of Guillermo Alonso. The exhibition includes works by unavoidable artists from our history of contemporary art, committed to social, political and economic events and whose aesthetics are linked to ethics. The title is taken from Dolores Cáceres who has adopted the significant name of Dolores de Argentina, a new addition to the gallery's staff of artists.
In 1983, Nicolás García Uriburu (1937-2016), celebrating democracy, dyed the waters of the Monument to the Spanish green, as he did in Venice with his then ecological protest. It features two chairs painted green, with sharp nails, elevated to the category of monuments to the corrupt politician and judge. Luis Benedit (1937-2011), on a small scale, made a model that replicated the old Immigrant Hotel, and Aldo Sessa (1939) photographed the Obelisk. Rómulo Macció (1931-2016), an essential reference of our painting, recalls in a painting, famous for its evocativeness, the arrival of immigrants to Buenos Aires.
Luis Wells (1939-2023) made "Dangerous Relationships", a kind of criticism of carnal relationships, an expression uttered by Chancellor Di Tella that remained in the collective imagination of a part of our society. Alberto Heredia (1924-2000) with his corrosive work, made with waste, rags, camembert boxes, unconventional monuments to satirize power, managed to awaken the indifferent Argentine. Norberto Gómez (1941-2021) whose visceral connotations in polyester resin describe the horror of torture in human beings.
Returning to Dolores Cáceres, (Córdoba, 1960), we learned about her work at the Bicentennial House on the occasion of the group exhibition "Like a Flash": a dialectic of light or darkness. Her work immersed us in the luminosity of neon tubes that accompanied antonyms: natural-artificial / guilty-innocent / free-slave. The exhibition restored some hope in a dark world. In Mamán's exhibition he replicates the format of words in neon columns: "I do not sell": friendship-rights, respect-truth, equality-life, ethics-freedom, love-desire, justice-politics, poetry-blood, friendship- right, equality-life, poverty-nothing. A whole catalog of his political and ethical thinking. In his essay, Capardi reaffirms that the language of art in a complex and diversified scenario is a sensitive reserve for a new beginning. This exhibition allows the contemplator to try to answer the questions that committed artists have always asked. (Closing on December 15. Av. del Libertador 2475. Monday to Friday from 11 a.m. to 8 p.m. Free admission).
Source: Ambito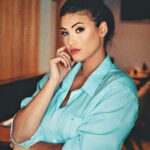 I am an author and journalist who has worked in the entertainment industry for over a decade. I currently work as a news editor at a major news website, and my focus is on covering the latest trends in entertainment. I also write occasional pieces for other outlets, and have authored two books about the entertainment industry.