Some loved them, some were glad they were over: the 2000s were controversial from a fashion perspective. Now the Y2K style is back. We have tips for implementation.
Not everyone likes this trend: the Y2K style inevitably reminds many of Paris Hilton, Britney Spears, very short tops and low-cut, wide trousers. Of glitter, tracksuits and fashion mistakes. But: 2000s fashion can do much more than that. The reinterpretation brings back old school vibes in an improved version. We explain how to style the trend pieces of the 2000s and what's popular now.
What does Y2K style mean?

But first the question: What exactly does Y2K actually stand for? The cryptic-sounding abbreviation simply stands for the 2000s or "year 2000": The Y stands for "year", 2K stands for "2 kilo", i.e. 2000. Y2K style is a modern name for 2000s fashion.
Y2K style: These 2000s fashion trends are back

On the occasion of its new campaign "Thats smoooth" with the fashion icon and figure of the 2000s Paris Hilton, the payment provider Klarna took a closer look at the Y2K trend and asked consumers what they particularly liked about the 2000s and what they have shopped themselves in the past six months. The result was that the oversized look, which is also one of the fashion trends for 2023, was particularly well received. But low-rise jeans, wide-leg pants, chokers, jogging suits, platform sneakers and crop tops are also becoming more popular again.
In numbers: From the first two to the last two weeks of January 2023, sales of the following products rose sharply in Germany: Low-rise jeans were purchased 51 percent more, choker necklaces ended up in shopping carts by 11 percent, tube tops by 31 percent, that Crop tops increased by 19 percent, wide leg pants increased by 16 percent, and parachute pants increased by 54 percent. We'll reveal how you can combine the trendy pieces in such a way that positive memories of years gone by come back.
Low-rise jeans

The low-rise jeans disappeared from the shelves for a long time because they often cut into the flesh, were not considered particularly comfortable and do not allow for many combinations. But: When styled correctly, this trouser model is casual and a real eye-catcher. Care should be taken to ensure that it fits loosely and comfortably. she can or worn tighter at the top and with wide legs. It is classically combined with white sneakers and a tight top, or depending on your taste, a crop top, which is also one of the Y2K style trends. A short leather or bomber jacket also goes well with this. As an alternative to sneakers, you can also wear boots or, if you prefer something more elegant: ankle boots or sandals.
Tip: With a By the way, you can save money when shopping for the trends.
Crop top

This trend never went away, but is now getting even more attention – especially when combined with sweatpants or low-rise jeans: . It looks particularly good in contrast to other trousers and looks casual. But it can also be worn with high-rise trousers if you want to show less skin.
Oversized

Anyone who follows current fashion trends will have come across this trend more often recently: oversized items have been particularly popular again for some time now. They are comfortable, can be combined all over and can also be found in Y2K style. Whether in the form of a bomber jacket, a coat, or sweaters: This trend almost always works well. If you want to maintain the silhouette, combine the oversized items with something tighter, but several oversized items of clothing can also be combined with each other.
Chokers

This accessory was particularly well known at the time as a tattoo necklace. Has been for some time can be found in jewelry boxes again – sometimes more, sometimes less in recent years. Chokers are currently popular again and are one of the highlights of 2000s fashion. Larger hoop earrings are also increasingly being seen again – also as part of the modern Y2K style.
The Y2K style is not only wearable today, but is increasingly on the rise again, as Klarna can confirm based on online purchases. By the way: The Y2K trend is less noticeable among men than among women – perhaps because sweatpants, oversized hoodies and retro sneakers are already part of many people's fashion repertoire.
Source used:
Source: Stern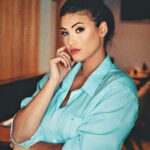 I am an author and journalist who has worked in the entertainment industry for over a decade. I currently work as a news editor at a major news website, and my focus is on covering the latest trends in entertainment. I also write occasional pieces for other outlets, and have authored two books about the entertainment industry.