Once again a 90s trend is making a comeback. This time it's scrunchies. Do you remember? Colorful, fluffy hair ties with a fabric cover that are guaranteed to attract attention, but not only have good times behind them. After years of disdain, they are now enjoying popularity again. Whether bun, ponytail or braided hairstyle: scrunchies always work. The star shows different models and why you can send your mane on a relaxing vacation.
"Sex and the City", Season 4, Episode 17: Style icon Sarah Jessica Parker, in her role as Carrie Bradshaw, falls from the throne of hair accessories with a single set of scrunchies: "No self-respecting woman ever wears a scrunchy outside of the bathroom," she complains . Boom, that's it! The end of an era. After at least a decade as a loyal companion, the fluffy hair ties had become obsolete at this very moment. With the devastating ruling in 2003, scrunchies disappeared from the scene. But as many can now imagine, this '90s it-piece has also managed to fight its way back into today's fashion world. Good news – less for Sarah Jessica Parker – but for the hair itself.
Scrunchies trend: a relaxing vacation for your hair

Compared to traditional hair ties – especially those with metal parts or tightly stretched elastic bands – scrunchies are gentler on the hair. Here are some reasons:
Avoiding hair breakage: Scrunchies are often made of soft materials such as fabric, silk or velvet. Compared to elastic bands, which can tend to pull or break hair, scrunchies cause less damage.
Less tension: Most scrunchies have a loose, elastic fabric that is less tight than traditional elastic bands. This reduces pull on the hair and minimizes the risk of hair damage.
Avoiding kinks: Because scrunchies are typically made of soft fabric, they are less likely to leave kinks or dents in your hair. In contrast, tightly stretched elastic bands can cause hair to become kinked or squashed where they are tied.
Versatility: Scrunchies are available in a variety of sizes and materials and are suitable for different hair types and hairstyles. This means they are not only practical, but also serve as an accessory.
Hair tie scrunchies: These models are available

In the following paragraphs the star We present you different models of scrunchies that differ in material, size, design and functionality. Starting with fabric scrunchies. Most are made from cotton, linen or other fabrics, ideal for everyday use and available in a variety of colors and patterns. which are reminiscent of cotton candy, are available for just 8.99 euros.
If you want to go more fancy, go for velvet scrunchies. They have a smooth, soft surface and are well suited for more elegant occasions. They can enhance a hair look and are also gentle on the hair. Also comes in a pack of twelve and costs 9.99 euros.
Silk or satin scrunchies are particularly gentle on the hair as they cause less friction. They work well for people with sensitive or curly hair to reduce frizz. Otto currently has eight silk crunchies for you .
Sports scrunchies are often made of elastic, quick-drying material and are well suited for sporting activities. They provide a secure fit and absorb sweat. Sports scrunchies are available from the brand Invisibobble and cost around .
Large or oversized scrunchies can be used to create a voluminous ponytail or bun. They are often eye-catching and can make a fashion statement. There are nine pieces available on Amazon .
Dotted or patterned scrunchies are the most eye-catching variant. They're great for adding a playful touch to a simple outfit or hairstyle. The colorful, patterned ribbons are already available for around .
Thin or mini scrunchies are smaller and can be used to secure narrow strands of hair, such as: B. braided pigtails or a half pigtail on the top half of the head. Mini scrunchies are available in packs of 6 for: .
You see: Scrunchies are conquering the fashion market in a number of versions and are returning as loyal companions – twenty years after the devastating verdict from "Sex and the City". Sarah Jessica Parker's contempt as Carrie Bradshaw seems forgotten. Probably right.
Source: Stern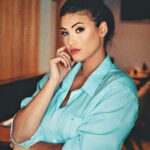 I am an author and journalist who has worked in the entertainment industry for over a decade. I currently work as a news editor at a major news website, and my focus is on covering the latest trends in entertainment. I also write occasional pieces for other outlets, and have authored two books about the entertainment industry.