Just weeks after serving her sentence, fake heiress Anna "Delvey" Sorokin was arrested again. She spoke up from prison now.
Her story was so insane and compelling that Grey's Anatomy producer Shonda Rhimes turned it into a Netflix series. "Inventing Anna" will be available on the streaming service from February 11th. The impersonated fake heiress Anna "Delvey" Sorokin will not watch the film adaptation of her life. Because she is still in prison.
Anna "Delvey" Sorokin reports from custody

In February 2021, Sorokin, who for years had posed as a rich German heiress under the name "Anna Delvey" and thus defrauded various banks and creditors, was released from prison. Just six weeks later, she was arrested again for overstaying her visa. Since then, Sorokin has been in custody awaiting the decision. It is possible that she will be deported to Germany. Shortly before the start of the broadcast of "Inventing Anna", the 31-year-old spoke up in the online magazine "Insider".
"I'm here because Immigration and Customs Enforcement have decided that my early release from prison has no meaning to them and that although I'm completely self-sufficient when left to my own devices, I'm 'a constant danger to them community'," she explains at the beginning of her article.
She thinks she's special

As in previous reports that she wrote from prison, Sorokin seems confident in herself. "While in prison, I paid the full compensation from my criminal case to the banks I took money from. Also, I have more in the six weeks they thought was enough to keep me at large achieved than some people have in the last two years. Overstaying my visa was unintentional and largely out of my control," she defends.
And even now she seems to think she's extraordinary. "Did I mention that I'm the only woman in custody in this whole prison? Tell me I'm special without telling me I'm special," she writes. You have the feeling that "people just want to see me suffer," explains Sorokin.
corona infection

She spends her days in a small cell. On January 19, she was diagnosed with the corona virus, after which she was sent to "medical isolation". What that means? "You're just put in a cell with a hole in the door. That place is like a Petri dish for viruses and bacteria," explains Sorokin. She hasn't felt this sick in years.
Out of sheer boredom, she started making herself bleed. "I have to methodically bite the skin around my nails until the nail beds slowly fill with blood from both sides, which then pools at the tip, which I then squeeze until there's enough to wash the cell's sink (.. .) which I spend 91.2 percent of my day in. Rinse and repeat," she explains. "It doesn't do anything tangible other than blunt the obsessive fixation on another wasted day that I'll never get back .And I can't just stop," writes Sorokin. She wonders when she will finally get the chance to start over. That is simply not possible for her in her current situation.
source:
+++ Also read:
Fake heiress Anna Delvey is fighting for her image in court – and her tactics are clever
Source: Stern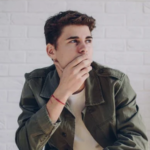 I am a 24-year-old writer and journalist who has been working in the news industry for the past two years. I write primarily about market news, so if you're looking for insights into what's going on in the stock market or economic indicators, you've come to the right place. I also dabble in writing articles on lifestyle trends and pop culture news.