Journalist.: How long has Finnosummit existed, what is the objective of meeting these days?
Andrés Fontao.: Finnosummit was born out of a need that we identified, to create a meeting point in Latin America and connect the different players in the fintech industry. My partner and I with Fonnovista began to have a presence in the region, in Latin America 10 years ago, in 2013. Although there were already entrepreneurs, the banks were already showing interest and the regulator was taking the first steps, there was no space, that platform, that meeting point where the different actors could connect, talk, design together, and that is where Finnosummit was born.
It is a meeting where people can meet, and can connect to start a collaboration together, which can take the form of a pilot, a proof of concept, or an acquisition. The Finnovistas were born as a platform to boost and accelerate the financial services industry. We saw that it was already happening in other industries, thanks to Airbnb, Spotify, and we thought this would also happen in banking, insurance, and banks. However the financial services industry is much more complex, it is heavily regulated. For the entrepreneur it was necessary either to know from the inside or to look for opportunities to collaborate with those who did not know him. We've been here for 10 years. We have held events in Miami, in Bogotá, in Mexico City, where the indignia event takes place.
Finnosummit Connect is a new concept. We design more and better networking experiences. Although there is content, curated with a very high-level speaker, with sessions with very powerful content, the central axis is networking. It is a meeting to connect. We have the structured meeting and the fun one, because it is also "let's go have a drink at the bar". We want it to be a very democratic event, because there are many facilities to access the big decision makers. By having them move, the engagement is much higher. We are joined by 300 people. From different countries in the region, from Mexico, Central America, South America, Spain.
Q.: How do you think these events have been transformed over time, have needs changed? What are the sectors that have now taken center stage?
AF: The truth is that the ecosystem has been growing, not only in volume, in participants, but also in the sectors that comprise us. In the first editions they were entrepreneurs and investors. Little by little, new players joined, starting with banks, the most traditional in the industry, and financial institutions. They have been present at the events, but this year we see them seeking to receive collaborations. Much more humility is noted. They know what they do well but they also recognize that fintech companies do things well, they seek to leverage their strengths, and have something much more powerful to offer their clients. Regulators are also showing more willingness. 10 years ago we invited the regulators and they didn't want to know anything about this, they didn't want to know anything about fintech. Today they knock on our door to tell us save us a space. This is how the system evolved throughout the region, sensitivity and sophistication. Other actors joined from adjacent industries that are leveraged as a technological platform, and they can embed financial services in their business such as Mercado Libre, the ecommerce platform in Latin America. Today it also provides financial services such as Mercado Pago and Mercado Crédito. Fintech technology embedded in its platform. Rappi and Uber now also offer financial services. Fintech as a technology layer that can be consumed by a third party.
Q.: How is the participation of the countries distributed?
AF: 60% from Mexico, 10% from the United States, 10% from Colombia, 7% from Argentina, 4% from Central America, and the remaining 7% from Conosur countries and Spain. When you do it in Mexico, getting here presents less friction for the Mexican. Flying from Mexico City to Cancun is less expensive for the local but also, if we leave Brazil aside, Mexico is the largest fintech ecosystem in Latin America. A country of more than 120 million people, the largest economy in the region, after Brazil. If macro data is taken into account more than the event is here reflects the industry. Colombia is the second largest and most sophisticated ecosystem. In Mexico there are 650 fintechs, followed by Colombia, Argentina and Chile.
Q.: The global economy had very changing processes, we went from a pandemic, to a phenomenon of global inflation with the rises in interest rates of the main central banks of the world, how did this affect the sector?
AF: We look at the pandemic in two phases. The first was shock, February/March 2020. Banks and fintech had to race to adapt to this new normal. It was much easier for fintech companies, many were already working online. The start ups benefited a lot, the demand for financial services skyrocketed. The traditional sectors also benefited and also forced the habits of their customers. Anyone who wanted to check his balance, for example, had to do it from a mobile, etc. They all adapted some later but they did.
The second phase that is recovery. Although conditioned by some external economic and geopolitical factors, the reality is that we are experiencing a stage of economic recovery where fintech plays a very important role. Access to credit is much more necessary today. Banks have been able, after that first phase, to adjust their processes. Today more than ever on the part of the incumbents to perceive collaborations with these sectors. We see it as positive, the changes in habits, a generation that you thought would never do home banking, customers who needed a branch. They forced them to do digital processes that changed their habits.
Q.: What opportunities and challenges do you see for the sector in the future?
AF: The main challenge represents an opportunity. We came from a period of abundant capital. Which was very good for the entrepreneurs, cheap money, almost unlimited but it created the idea in the entrepreneurs of "growth at all costs". What we see now is that capital is not as abundant and investors are more disciplined when it comes to evaluating and deciding what investments they are going to make. Discipline is good. It is capital under disciplined decisions. The economic recovery phase, the inflation rates, there is no better time to undertake than this. Unfortunately, the banking gap is increasing, between individuals and families. It is the opportunity they are looking to capture. There is access to much better talent. 10 years ago no one left their position to undertake in the fintech sector. Today there are bank executives who leave their jobs to enter the ecosystem. They are challenges that present opportunities.
Q.: What can the fintech sector do for financial inclusion?
AF: The first goal is that through technology, greater financial education can be promoted. The one that there is greater sensitivity for the benefit of the consumer on the management of his personal finances. Technology is available to everyone, especially in Latin America. We are one of the largest consumers of social networks, of digital entertainment, of services such as Uber, Spotify, above China and India. It not only allows access but also democratizes them. Investing in the stock market was something for the rich until very recently, you had to have at least $10,000 to access an account. Nowadays, with technological solutions, it is already possible to access to invest in the stock market, from a phone to an app. The education part is important because this is not going to a casino. The technological layer that can be consumed by third parties will boost the fintech industry. Embedding financial services and making them digital experiences is worth gold.
Source: Ambito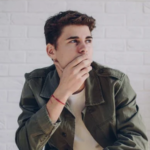 I am a 24-year-old writer and journalist who has been working in the news industry for the past two years. I write primarily about market news, so if you're looking for insights into what's going on in the stock market or economic indicators, you've come to the right place. I also dabble in writing articles on lifestyle trends and pop culture news.